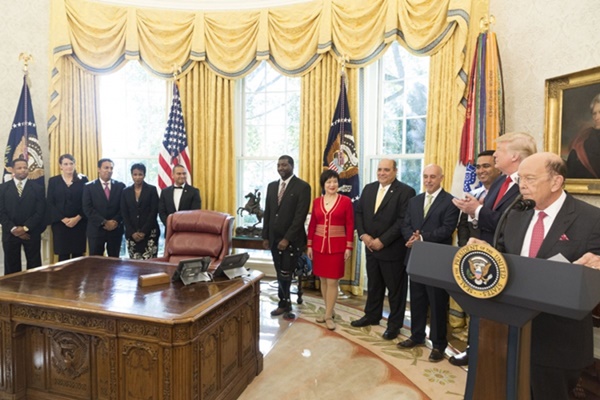 Feb. 17 (UPI) — The U.S. Department of Commerce Secretary Wilbur Ross recommended on Friday that the president impose taxes on steel and aluminum imports due to investigative findings about the impact of industry on national security.
Ross said excessive steel and aluminum imports "threaten to impair the national security," in a 262-page investigative report released Friday.
"The continued rising levels of imports of foreign steel threaten to impair the national security by placing the U.S. steel industry at substantial risk of displacing the basic oxygen furnace and other steelmaking capacity," report stated. This also affects "the related supply chain needed to produce steel for critical infrastructure and national defense," it stated.
In the report, Ross said that the decline in production capacity is "weakening our internal economy and may impair our national security." Due to that threat, Ross recommended the president reduce imports through quotas or tariffs. Recommendations included a tariff of at least 24 percent on all steel imports and a tariff of at least 7.7 percent on all aluminum imports.
Among its key findings, the report found that the United States is the world's largest importer of steel — with imports nearly four times greater than its exports.
"On an average month, China produces nearly as much steel as the U.S. does in a year. For certain types of steel, such as for electrical transformers, only one U.S. producer remains," the release stated.