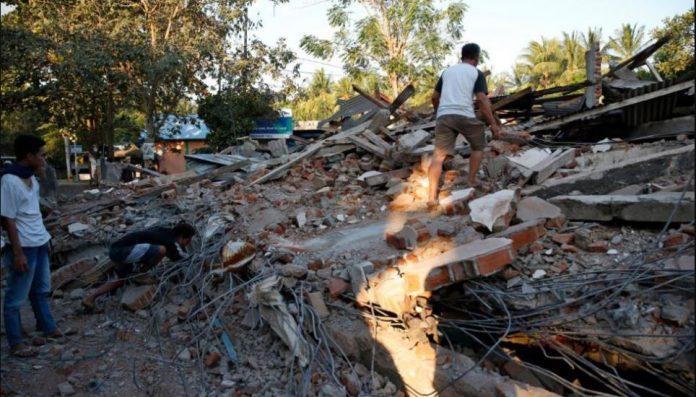 Aug. 7 (UPI) — Aftershocks rattled Indonesia's Lombok Island Tuesday as rescuers searched for survivors from Sunday's earthquake that killed more than 100.
The earthquake Sunday has been followed by a series of aftershocks including a 5.2-magnitude earthquake late Monday and 5.4-magnitude earthquake early Tuesday, the U.S. Geological Survey shows.
Meanwhile, rescuers continue searching for survivors.
About 20,000 have been displaced since Sunday's quake, including 1,200 tourists from the Gili Islands.
None of those killed were foreign tourists, national disaster agency spokesman Sutopo Purwo Nugroho said.
Thousands of homeless were still waiting for aid Tuesday as tourists camped on beaches.
A video clip online shows an imam praying at a Bali mosque during the quake.
A spokesman for the Musholla As-Syuhada mosque told BBC Newsworshipers heard "the ceiling and the roof like it was going to fall, so we ran." The imam, Arafat, stayed in prayer, as he believed "his life was only for God to take."
About 1,300 tourists evacuated to Bali early Tuesday, The Jakarta Post reported.
Last week, a 6.4-magnitude quake killed 17 people and stranded more than 500 hikers on an Indonesian volcano, also on Lombok Island. They were eventually rescued.