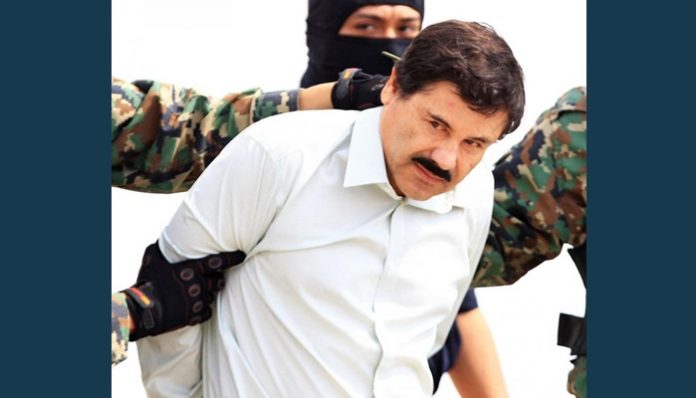 Nov. 27 (UPI) — A former lieutenant in the Mexican drug cartel allegedly run by Joaquin "El Chapo" Guzman on Monday detailed the origins of the kingpin's empire.
Miguel Angel Martinez was the third witness to testify against Guzman — who faces trial for a 17-count indictment for drug trafficking, murder conspiracy and money laundering. He described the early days of the Sinaloa Cartel as well as details of the cartel's drug running operations.
Martinez survived two assassination attempts in prison after being arrested in 1998, and prosecutors took additional security measures to protect his identity during his testimony, including forbidding courtroom artists from sketching portions of his face.
Martinez testified that a portion of the wealth Guzman amassed as the leader of the cartel was used to bribe authorities, including the chief of Mexico City's federal police.
He said Guzman paid the police chief $10 million as many as three times in the 1990s in exchange for information about drug investigations and assistance tracking down the kingpin's enemies.
Throughout his time in the cartel, Martinez testified, he developed a close relationship with Guzman, who became his son's godfather.
"I was glad, because, well, he was the boss," Martinez said.
Guzman also told Martinez personal tales of his poor upbringing in the mountains of Sinaloa.
"He was a very poor person who didn't have anything to eat, and that was the reason he got involved in the drug trade," Martinez said. "Since he was a little boy, he would plant marijuana in front of his house, and poppies to make heroin."
Martinez said that he took a job as a pilot with Guzman in 1986, when the budding cartel only employed about 25 people.
During this period, Guzman brokered deals with Colombian drug dealers as part of the larger Guadalajara drug cartel and employed his cousins Hector Leyva and Arturo Beltrán Leyva to transport drugs into Los Angeles, Calif.
Martinez described one of his earliest missions in which he crash-landed a plane with two dead engines on a clandestine airstrip in northern Mexico, carrying tons of cocaine meant to be taken to Los Angeles.
"He told me we were missing 10 minutes of gasoline, then seven, then five," Martinez said of Guzman. "We landed on the airstrip without engines and without gasoline. We jumped on the brakes and the landing gear broke. The cocaine was saved."
Due to his skill as a pilot, Martinez eventually climbed the ranks of the cartel, acting as an air traffic controller before being promoted to a lieutenant.
He testified that Guzman would tell deputies he was having a party as he was sending orders to prepare planes for cocaine shipments. Guzman used code when communicating with pilots, referring to fuel as "wine" and planes as "girls," while also whistling to pilots to inform them when it was safe to take off.