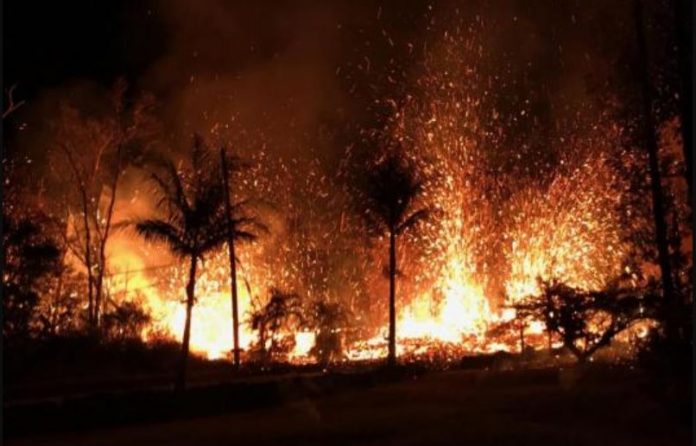 May 6 (UPI) — At least nine homes have been destroyed after the Kilauea volcano on Hawaii's largest island erupted and continued to open fissures in the ground Sunday.
At least eight volcanic fissures have opened in the Leilani Estates subdivison on Hawai'i island after a new fissure emerged early Sunday and lava fountains reached a height of about 230 feet, according to the United States Geological Survey.
New cracks also emerged on Highway 130, but did not appear to emit heat or steam.
"Vents continue to open up, so we lost a few more structures," Hawaii County Civil Defense administrator Talmadge Magno told KHON2. "I'm pretty happy that we did evacuated the whole neighborhood and unfortunately some people are still in there and we need to get them out."
All 1,700 residents in the Leilani Estates community were ordered to evacuate due to the rising lava and sulfur dioxide gases coming from the fissures.
"The area continues to be unstable with volcanic venting and related hazards of earthquake and poisonous gases ongoing," the Hawaii Civil Defense Agency said.
Magno said some first responders were affected by the high levels of sulfur dioxide gas, which can cause burning of the nose and throat, breathing difficulties and be life-threatining if ingested in high amounts.
"The officers and firefighters that were out there on the first night, the gasses were really high," he said. "Usually it's not long lasting. You can recover from it, but they went home with headaches and so forth, but that's part of the exposure."
Hawaii County Mayor Harry Kim said the government will assist residents seeking to return home to retrieve belongings.
Earthquake activity near Kilauea's increased in the past two days as a series of powerful earthquakes up to 6.9-magnitude shook the Big Island of Hawaii on Friday.
The quake was preceded by a 4.6-magnitude earthquake that shook Hawaii on Thursday morning and caused rockfalls and a possible collapse in the crater of the Kilauea's Puu O'o vent, sending cloud of pink ash and smoke billowing into the air.