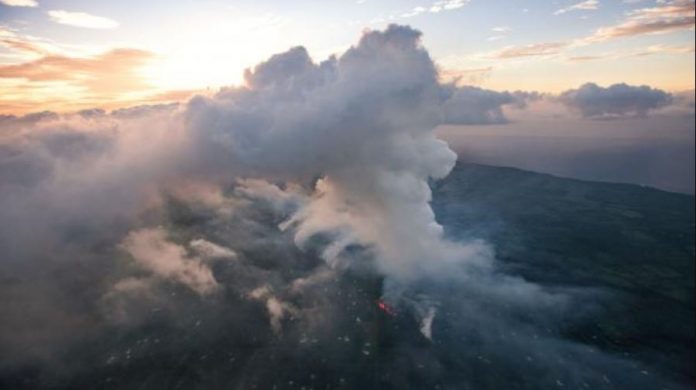 May 9 (UPI) — With rain expected on the Big Island of Hawaii this week, residents are facing a new threat after the Kilauea volcanic eruption — acid rain.
Along with lava and volcanic ash spewing from the ground, fissures are emitting high levels of toxic Sulphur gases that react with oxygen, moisture and sunlight. The reaction could produce volcanic smog and acid rain, known as vog.
"Vog poses a health hazard by aggravating preexisting respiratory ailments, and acid rain damages crops and can leach lead into household water supplies," the U.S. Geological Survey said.
The greatest chance of rain could occur Thursday and Friday, forecasters said.
After the Kilauea volcano erupted, hundreds evacuated their homes after 14 fissures opened on the island of Hawai'i. Lava has burned 37 structures, including 27 homes.
University of Hawaii Meteorologist Steven Businger said there's no serious health risk with acid rain for most residents, because it's not concentrated enough to cause harm.
Contaminated drinking water, though, poses a greater health risk, particularly with homes that use rooftop rainwater-catchment systems.
Scientists say acid rain can lead to lead contamination in humans. For the environment, it can impact fish and other wildlife as it flows through the soil, which could kill acid-sensitive plants and animals.
Acid rain can be harmful to forests because it dissolves nutrients as it seeps into the ground and also causes aluminum to be released into the soil, making it difficult for trees to take in water. The substance can also damage buildings, statues, monuments, and cars because chemicals found in acid rain can cause paint to peel and wear down stone.