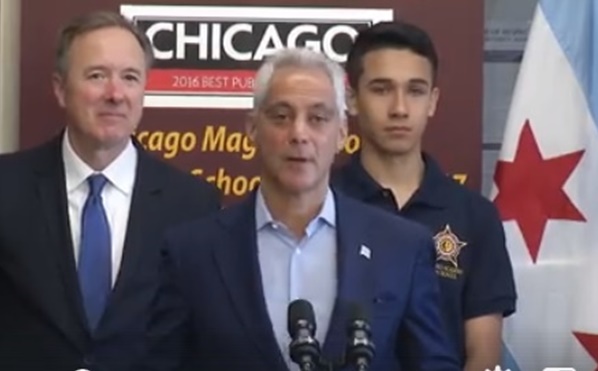 Sept. 16 (UPI) — The U.S. Department of Justice will not be permitted to withhold grant funds from cities that refuse to assist federal immigration officials to pursue suspected undocumented immigrants, a judge ruled Friday.
U.S. District Judge Harry D. Leinenweber in Illinois said in a 41-page ruling that Attorney General Jeff Sessions likely overstepped his authority in efforts to urge sanctuary cities to give federal agents access to jails or tip them off when a suspected undocumented immigrant is scheduled for release.
"I want to be clear, this is not just a victory for the city of Chicago," Chicago Mayor Rahm Emanuel said at a press conference after the ruling. "It is a win for cities, counties and states across the country who also filed amicus briefs on behalf of our lawsuit, and also the business leaders who also stepped forward on our lawsuit."
The policy to withhold funds was rooted in an executive order signed by President Donald Trump in January declaring sanctuary cities would not be eligible for federal grants, which Sessions has been working to enforce ever since.
In July, Sessions added new requirements for local law enforcement — specifically requiring access to jails and information on suspected undocumented immigrants 48 hours before they are released from jail — in order to be eligible for the Edward Byrne Memorial Justice Assistance Grant Program.
The lawsuit was filed by Emanuel in early August in response to the new requirements. Chicago has already applied for $1.5 million in Byrne grants, which are used for personnel, training, supplies and other areas.
Chicago officials said 37 municipal and county governments also filed briefs in support of the suit.
"By protecting criminals from immigration enforcement, cities and states with 'so-called' sanctuary policies make their communities less safe and undermine the rule of law," Justice Department spokesman Devin O'Malley said in a statement after the ruling was announced. "The Department of Justice will continue to fully enforce existing law and to defend lawful and reasonable grant conditions that seek to protect communities and law enforcement."