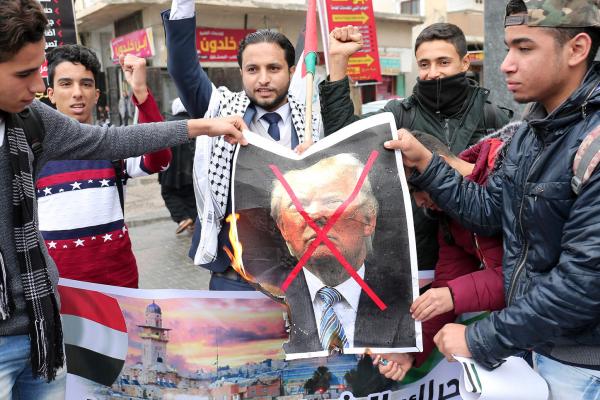 Dec. 6 (UPI) — World leaders are advising U.S. President Donald Trump to hold off on plans to move the U.S. Embassy in Israel from Tel Aviv to Jerusalem.
Turkish President Recep Tayyip Erdogan called the potential move a "red line for Muslims." Bekir Bozdag, his deputy prime minister, said the move could "plunge the region and the world into a fire with no end in sight."
Trump announced the change, a promise of his 2016 presidential campaign, at 1 p.m. EST Wednesday.
Although it could take years for the embassy to actually move, the announcement would make the United States the first country to officially recognize Jerusalem as the capital of Israel.
The United States has never recognized Israel's sovereignty over Jerusalem, despite the presence of most of Israel's government there. An independent Palestinian nation, should one be recognized, would use East Jerusalem as its capital. Palestinians reason that Trump's move essentially decides a core issue in the decades-long Israeli-Palestinian conflict.
Since the 1979 Camp David Accords, the United States has maintained Jerusalem's status should be determined by Israelis and Palestinians. Trump's decision to move the embassy would overturn years of U.S. policy.
A recognition of Jerusalem as Israel's capital is seen by many as contrary to U.S. neutrality, NBC News reported.
The issue is sensitive one in the Middle East. Palestinian President Mahmoud Abbas called the move "unacceptable." Spokesman Nabil Abu Rdeneh said, "If this happens, it will complicate things. It will put an obstacle in the peace process. Maybe it will be the end of the peace process."
Palestinian organization Hamas was more forceful. Its leader, Ismail Haniyeh, said, "Our Palestinian people everywhere will not allow this conspiracy to pass, and their options are open in defending their land and their sacred places."
Many leaders in the Muslim world condemned the proposed move, and some suggested the United States could subsequently lose its standing as a mediator in a peace process.
Israeli leaders offered little comment on Trump's expected announcement, but Prime Minister Benjamin Netanyahu said Wednesday, "Our historical and national identity is receiving recognition, especially today."
Other world leaders warned of safety issues in Jerusalem and the possibility of violence over Trump's decision. Germany issued a warning to citizens in the area, saying "violent clashes cannot be ruled out."
The European Union called for the "resumption of a meaningful peace process toward a two-state solution." British Foreign Secretary Boris Johnson said the status of Jerusalem should be a "negotiated settlement."
Jerusalem is an "open city," by diplomatic standards, which means Israelis and Palestinians can freely travel. Several Palestinian neighborhoods have checkpoints through which residents must pass .
Most of Jerusalem's 300,000 Palestinians are regarded as residents and not as Israeli citizens.