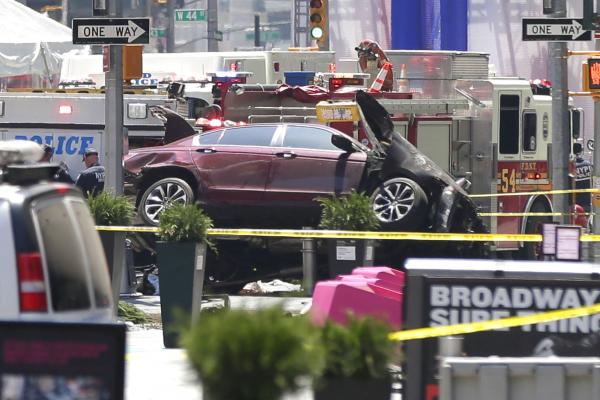 Oct. 6 (UPI) — Pedestrian and motorcyclist deaths marked the biggest increases in traffic-related fatalities in 2016 — and more bicyclists died on roads than in any year in over a quarter-century, the U.S. Department of Transportation said Friday.
The National Highway Traffic Safety Administration's annual fatal traffic crash report revealed there were 37,461 deaths on U.S. roads last year, a 5.6 percent increase from 2015. There was a 2.2. percent increase in miles traveled on U.S. roads, resulting in a fatality rate of 1.2 deaths per vehicle mile traveled. That's up 2.6 percent from 2015.
The biggest increase in deaths came from pedestrians — 5,987 fatalities, the highest number since 1990. The number increased 9 percent from 2015. There also were 5,286 motorcyclist fatalities, the largest in 2008, for an increase of 5.1 percent from 2015.
Unbelted deaths increased by 4.6 percent, speeding-related deaths by 4 percent and drunk-driving deaths by 1.7 percent. A total of 840 bicyclists died on the road last year — an increase of 1.3 percent — the greatest number since 1991.
Meanwhile, drowsy-driving deaths were down 3.5 percent from 2015 and distraction-related deaths decreased by 2.2 percent.
On Thursday, motor club AAA released a report indicating that touch screens in some newer models of vehicles are proving to be distracting to drivers. The AAA Foundation for Traffic Safety study said drivers using voice-based and touch screen features were visually and mentally distracted for more than 40 seconds at a time when using the technologies to program the GPS or send a text message.
"Some in-vehicle technology can create unsafe situations for drivers on the road by increasing the time they spend with their eyes and attention off the road and hands off the wheel," said David Yang, executive director of the AAA Foundation for Traffic Safety. "When an in-vehicle technology is not properly designed, simple tasks for drivers can become complicated and require more effort from drivers to complete."
AAA said most of these so-called infotainment systems could be made safer by following federal recommendations to lock out text messaging, social media and navigation programming while the vehicle is in motion.
"AAA cautions drivers that just because a technology is available while driving does not mean it is safe or easy to use when behind the wheel. Drivers should only use these technologies for legitimate emergencies or urgent, driving related purposes," said Jake Nelson, AAA's director of Traffic Safety Advocacy & Research.