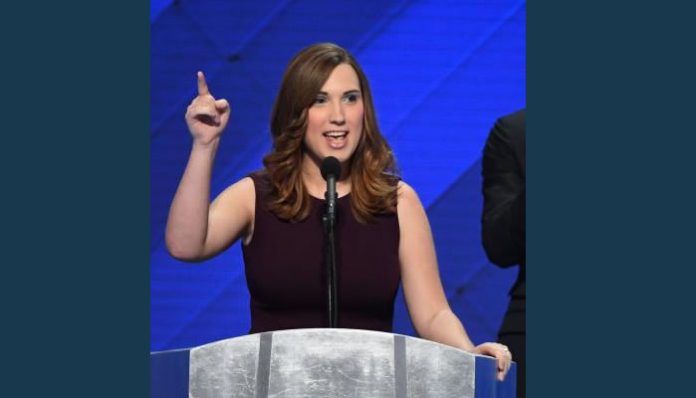 PHILADELPHIA, July 28 (UPI) — Sarah McBride on Thursday became the first transgender person to address a major American political party's convention, where she told fellow Democrats that Hillary Clinton will work to ensure greater protections for the LGBTQ community.
McBride, 25, a former intern in the Obama White House who now works for the pro-LGBTQ Human Rights Campaign, told delegates in Philadelphia Thursday afternoon that too many transgender people face discrimination — both in U.S. law, and from individuals.
"Four years ago, I came out as transgender while serving as student body president in college," she said. "At the time I was scared. I worried my dreams and my identity were mutually exclusive."
In her remarks, McBride urged Americans to be more accepting of people's differences.
"Will we be a nation where there's only one way to love, one way to look, one way to live?" she asked.
In advance of her speech, McBride said she wanted to make other transgender Americans proud to be who they are.
"I'm certainly excited to have this opportunity … I just hope I do my community proud," she told NBC News earlier. "I really want to use this moment to reinforce and underscore that behind this debate on trans equality, there are real people who are seeking dignity and fairness throughout their lives, people who hurt when we are ridiculed and mocked and discriminated against, people who are facing violence … I want to make sure that people realize the humanity behind the conversation."
McBride was joined onstage by Rep. Sean Maloney, D-N.Y., the chair of the congressional LGBTQ caucus and the first openly-gay person elected to Congress from the Empire State, who also urged Democrats to remember the hard-fought victory for same-sex marriage enshrined by the Supreme Court last year.
In his remarks, Maloney recounted calling his husband, Randy, after news broke of the Supreme Court's decision on June 26, 2015.
"The news hit like a thunderclap. Many of us wept. … I called Randy, I could barely speak," he said. "Yes, our family's a little different, but we read bedtime stories the same. Until that day, we weren't really the same, not according to the law."