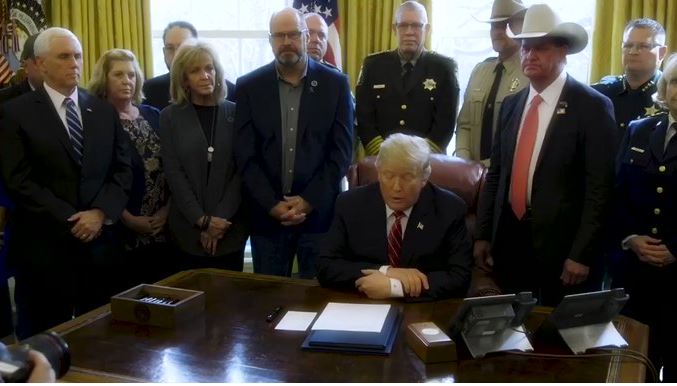 March 15 (UPI) — President Donald Trump issued his first veto Friday, undoing the bipartisan effort to terminate his national emergency declaration at the southern border, arguing that the executive branch can bypass Congress in extreme circumstances.
The emergency declaration will likely stand as Congress doesn't have the votes to overturn a veto, but it still may face challenges in federal court.
Before signing the veto, Trump said more than 76,000 illegal migrants crossed the border last month.
"As president, the protection of the nation is my highest duty," Trump said. "Yesterday, Congress passed a dangerous resolution that if signed into law would put countless Americans in danger, very grave danger. The Democrat-sponsored resolution would terminate vital border security operations by revoking the national emergency issued last month. It is definitely a national emergency. Rarely have we had such a national emergency."
15.7K people are talking about this
Trump also credited Customs and Border Patrol officials for keeping the country safe when immigration centers are "bursting at the seams."
"And the only option then is to release them, but we can't do that either. Because when you release them, they come into our society, and in many cases, they're stone-cold criminals … you have killers coming in. Just not going to allow it to happen."
He also credited the military that has been deployed there since last year, building temporary barriers that likely will remain.
Critics have said Trump's emergency declaration violates the Constitution because Congress has the power to control spending.
Nancy Pelosi

✔@SpeakerPelosi

The House and Senate resoundingly rejected @realDonaldTrump's lawless power grab, yet the President has chosen to continue to defy the Constitution, the Congress & the will of the American people. #FakeEmergency
On March 26, the House will once again act to protect our Constitution and our democracy from the President's emergency declaration by holding a vote to override his veto. #FakeEmergency
Trump has maintained for months that billions of dollars are needed to build a barrier on the southern border to prevent an influx of drugs, criminals and trafficked migrants from Mexico. For months, there was a stalemate between Congress and Trump that partially shut down the government for 35 days, the longest shutdown in U.S. history.
On Jan. 25, Trump temporarily reopened the government for three weeks, hoping to work out a deal. When no deal came, Trump declared a national emergency Feb. 15 to obtain the funding without congressional approval.
Speaker Nancy Pelosi assembled a bipartisan group to reverse the national emergency despite threats that Trump would veto it when it reached his desk.
"People hate the word 'invasion' but that's what it is," Trump said.
He also said anyone who votes to overturn the national emergency is "against reality."
I look forward to VETOING the just passed Democrat inspired Resolution which would OPEN BORDERS while increasing Crime, Drugs, and Trafficking in our Country. I thank all of the Strong Republicans who voted to support Border Security and our desperately needed WALL!
83.7K people are talking about this
Sen. Lamar Alexander, R-Tenn., said he supported the resolution to overturn the emergency, saying this is a constitutional matter.
"Never before has a president asked for funding, Congress has not provided it, and the president then has used the National Emergencies Act of 1976 to spend the money, anyway," Alexander said.
Newly appointed Attorney General William Barr said the emergency declaration was "clearly authorized under the law and consistent with past precedent." Barr said he's ready to defend the declaration in court.
"The National Emergencies Act directly authorizes the president, and gives broad discretionary authority to the president, to identify and respond to emergent circumstances that require a decisive response," Barr said. "And the humanitarian and security crisis we have on the border right now is exactly the kind of emergency that presidents are permitted to address under the National Emergencies Act."