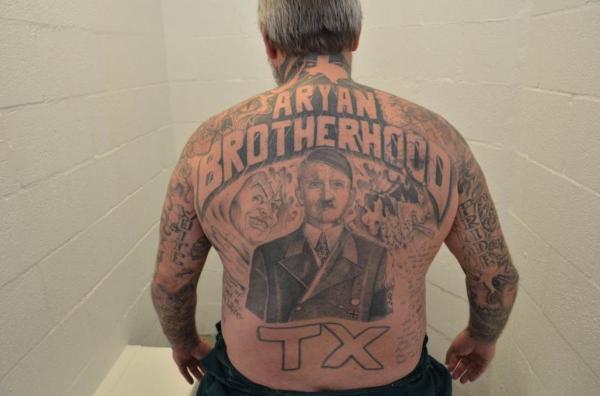 Aug. 15 (UPI) — A member of the Aryan Brotherhood of Texas has been sentenced to 20 years in federal prison for selling methamphetamine in what federal officials call the largest prosecution of a white supremacist gang in the nation's history.
Jeremy Weatherall, 29, became the 89th member of the Aryan Brotherhood of Texas to be convicted in a seven-years-long investigation into the gang. Weatherall was convicted on one count of possession of methamphetamine with intent to distribute, which he pleaded guilty to in March.
Other members of the white supremacist gang combined for a total of 736 previous convictions, of which 234 were drug-related offenses; 76 violent offenses; 36 gun offenses; 37 burglaries; seven sex or child-abuse offenses; and one was a murder conviction, the Department of Justice said.
More than 1,070 years in federal prison were handed out during sentencing.
"The Aryan Brotherhood of Texas and the Aryan Circle have essentially been decimated in north Texas," said U.S. Attorney John Parker. "The outstanding collaborative work of the Texas Department of Public Safety and the Dallas Police Department helped ensure that each of the 89 defendants who were arrested have now been convicted and sentenced."
Two more Aryan Brotherhood members were charged, bringing the total to 91, but one died before trial and another fled and is believed to be in Mexico.
Federal prosecutors' quest to bring down the Aryan Brotherhood of Texas goes back to 2008, when the FBI investigated a different motorcycle gang. An informant in that investigation tipped them off about the Aryan Brotherhood, which ended up being a seven-years-long investigation involving several state and federal law enforcement agencies.
The gang has been suspected in several murders and assaults, including the torture of a man with a blowtorch, which inspired an episode of Sons of Anarchy, reported the Houston Chronicle.