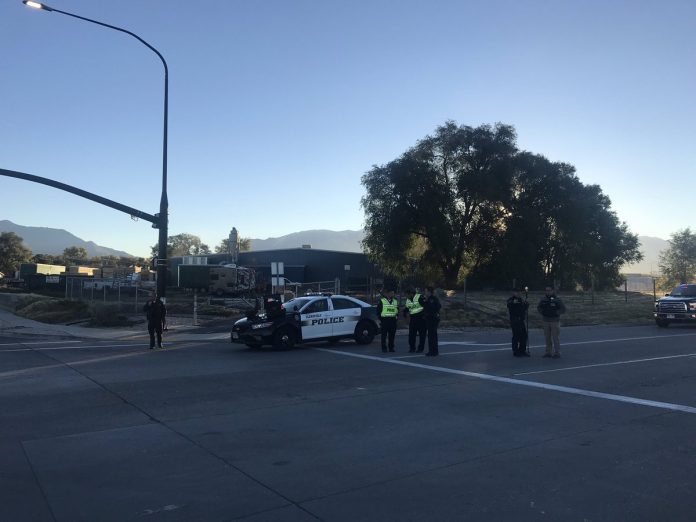 For an updated story click here.
CLEARFIELD, Utah, Oct. 15, 2018 (Gephardt Daily) — One man is dead after a car and a military surplus vehicle collided in an intersection on State Route 193 in Clearfield early Monday morning.
Clearfield Police Department Assistant Chief Kelly Bennett told Gephardt Daily that the crash occurred at the intersection of SR-193 and H Street just before 5:50 a.m.
Bennett said a white Chrysler 300 was traveling north on SR-193 and the military surplus vehicle was traveling eastbound on H Street. The vehicles collided in the intersection, he said.
The military vehicle struck the Chrysler on the driver's side, and the driver of the passenger car died at the scene.
The identity of the deceased man has not been released pending notification of family members.
The driver of the military vehicle was also injured and was transported to an area hospital in stable condition. There were no passengers in either car, Bennett said.
At this early stage it's not clear if the drivers were wearing their seat belts.
SR-193 was closed until 10 a.m. but has now reopened.
Bennett said the accident reconstruction team is on scene and investigating the incident. The team is working to determine which vehicle had the right of way for the intersection. He added that there were witnesses to the accident and investigators are interviewing them.
"Our thoughts are with all those involved especially with the family of the deceased," Bennett said.
Gephardt Daily will have more on this developing story as information is made available.