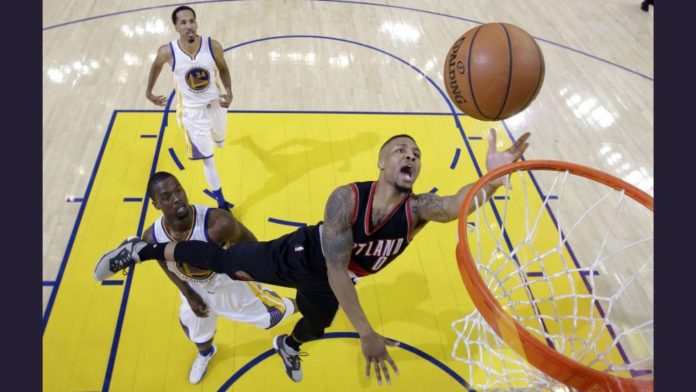 Sept. 28 (UPI) — Damian Lillard is "excited for the next chapter" after months of speculation ended with the former Weber State star being traded to the Milwaukee Bucks, he wrote on his social media platforms.
The now-former Portland Trail Blazer posted the messages Wednesday night on Instagram, X and Facebook.
"The casuals won't be addressed, but the Trail Blazers fans and city of Portland that I love truly will be," Lillard wrote. "And they will be addressed truthfully. Stay tuned. Excited for my next chapter, Milwaukee Bucks."
The Blazers announced that they traded Lillard to the Bucks and sent Keon Johnson, Nassir Little and Jusuf Nurkic to the Phoenix Suns. They acquired guard Jrue Holiday, a first-round pick in the 2029 NBA Draft and the right to swap first-round picks in 2028 and 2030 with the Bucks.
In addition, Portland acquired center Deandre Ayton and forward Toumani Camara from the Suns in the three-team deal.
The Bucks sent guard Grayson Allen to the Suns in the swap.
"On behalf of the entire Portland Trail Blazers organization, I want to express my gratitude to Damian for 11 storied years with this franchise and for his loyalty to the Portland community," Blazers general manager Joe Cronin wrote in a news release.
"From becoming the all-time leading points scorer in franchise history to his dedicated commitment to youth across Oregon and the entire Pacific Northwest, Damian is and will remain a titan and a true trailblazer to this city."
Lillard, who joined the Blazers as the No. 1 overall pick in the 2012 NBA Draft, averaged 25.2 points, 6.7 assists and 4.2 rebounds per game over his 11 seasons with the franchise. The Blazers advanced to the Western Conference finals just once during that timeframe.
The seven-time All-Star demanded a trade this off-season and said he preferred to go to the Miami Heat, but that deal never materialized. Instead, he will team up with two-time NBA MVP Giannis Antetokounmpo and All-Star Khris Middleton, who led the Bucks to a title in 2021.
Lillard's agent, Aaron Goodwin, told the Miami Herald that the Heat "did everything they could" to try to acquire his client in a trade.
"They did everything they could to acquire Dame," Goodwin said. "It takes two to get a deal done. I appreciate all that [Heat president] Pat Riley, [general manager] Andy Elisburg and [owner] Micky Arison did to try and make this happen."
Lillard, 33, is signed through 2025-26. He has a player option for $63.2 million in 2026-27.
"Damian Lillard is an elite player in our league and someone we've long been fans of," Bucks general manager Jon Horst said in a news release. "These opportunities are rare and hard to measure and execute. We are incredibly grateful for this opportunity for our community and team, and beyond excited to welcome Damian and his family to the Milwaukee Bucks.
"His character, competitiveness, talent and experience complement our group and gives us the best chance to win at the very highest level as we create new memories together."
Lillard, who also raps as Dame D.O.L.L.A., posted a new song Wednesday on his social media accounts. He took time to thank Blazers fans and described his exit in the lyrics of "Farewell."
"I could never be replaced, they'll know sooner than later," Lillard said in the song. "An arrow pointed at who assumed it was greater. Amazing what I get in return for this labor. I'll continue leaving trails, but it won't be for the Blazers. To the fans, I love you, it's unconditional.
"The reasons for me leaving the city is nothing typical. So it's imperative not to believe the narrative. Just know that what I left is better than what I inherited. I leave at peace because I know in the end that this is business. I hope you remember all the things you got to sit and witness. In the future, I hope we greet with hugs and kisses. but you should know that they the ones who chose another mission. They fishin."
The Bucks will host the Chicago Bulls in a preseason game Oct. 8 in Portland. They will start the regular season with a game against the Philadelphia 76ers on Oct. 26 in Milwaukee.