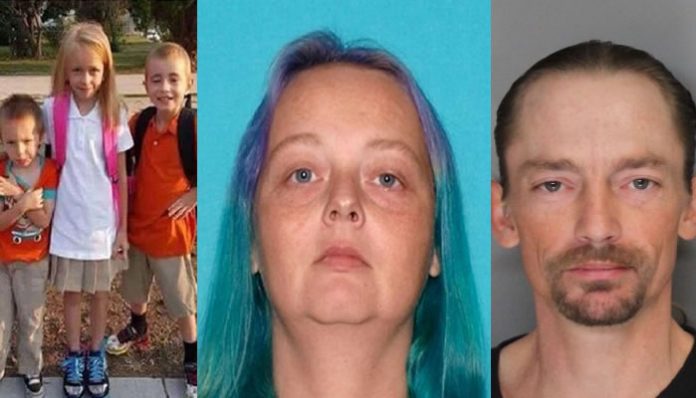 Idaho, June 14, 2016 (Gephardt Daily) — An Amber Alert has been issued for three Idaho children thought to be traveling with a suspected child molester.
Lewis Dunn, 10, Kaylee Dunn, 9, and Kadyn Simon, 6, went missing from Caldwell City, Idaho on June 2.
Police believe they may be traveling in a 2006 Gold Pontiac Montana van with an Idaho license plate number of 2CJN683.
Law enforcement officials believe they are traveling with their mother, Sarah Joy VanOcker-Dunn, 36, and her boyfriend, 37-year-old Jason "Travis" Simon, according to the National Center for Missing and Exploited Children website.
Police believe the adults left Idaho with the children after they realized detectives were looking for Simon in connection with a child pornography investigation.
Simon is currently being sought for questioning in a child sexual abuse case out of Caldwell, Idaho. VanOcker-Dunn is being sought on a charge of custodial interference.
VanOcker-Dunn and Simon were alerted to his impending law enforcement contact on June 2 and fled their home in Caldwell, taking with them the 10-, 9- and 6-year-olds.
All three children are believed to be in imminent danger due to the circumstances. The family was seen June 2 in Emmett, Idaho, where the adults obtained camping equipment.
They were seen in Arcada, Calif. on June 8, and Sparks, Nev. on June 12.
There is a $100,000 warrant for sex abuse of a child under 16 out of Canyon County for Simon. There is a $150,000 warrant for felony custodial interference out of Canyon County for VanOcker-Dunn.
Anyone who has information on the children or suspects is asked to call police.
Lewis Dunn
Age: 10
Sex: Male
Skin: White
Hair: Brown
Eyes: Brown
Height: 4-feet-6-inches
Weight: 50 pounds
Kadyn Simon
Age: 6
Sex: Male
Skin: White
Hair: Blonde
Eyes: Brown
Height: 3-feet-4-inches
Weight: 40 pounds
Kaylee Dunn
Age: 9
Sex: Female
Hair: Blonde
Eyes: Blue
Height: 4-feet-2-inches
Weight: 60 pounds
Suspects
Jason "Travis" Simon
Age: 37
Sex: Male
Skin: White
Hair: Brown
Eyes: Blue
Height: 5-feet-4-inches
Weight: 115 pounds
Sarah Joy VanOcker-Dunn
Age: 36
Sex: Female
Skin: White
Hair: Blonde
Eyes: Blue
Height: 5-feet-2-inches
Weight: 160 pounds