NYACK, NEW YORK – August 18, 2015 (Gephardt Daily) – Rosie O'Donnell's 17-year-old daughter, Chelsea O'Donnell has been found safe.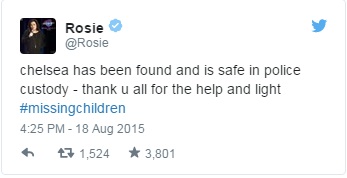 O'Donnell's official website said in a statement today: "Nyack, New York police authorities have been looking for Chelsea in the Rockland County area since Sunday, August 16. She was last seen Tuesday, August 11. She was wearing a black sweatshirt hoodie, dark ripped blue jeans, women's grey converse sneakers and a black backpack. Chelsea has a large tattoo on her right side of a dream catcher with the word 'Breathe.' She left home with her 6 month old therapy dog named Bear. The dog is a 9 lbs brown and black terrier. Chelsea stopped taking her medicine and is in need of medical attention."
About six hours after she had taken to social media in an effort to find her daughter, Rosie tweeted that Chelsea was found safe and in police custody.
South Nyack police said Chelsea was found in New Jersey just before 6 p.m. eastern time.
O'Donnell, an actress, comedian and former panelist on "The View," has a home in the village of South Nyack.
Chelsea is the daughter of O'Donnell and her ex-wife, Kelli Carpenter.