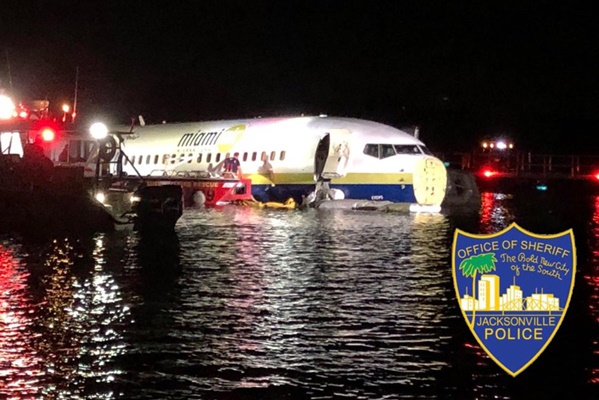 JACKSONVILLE, Fla., May 3, 2019 (Gephardt Daily) — A Boeing 737 carrying 136 passengers and seven air crew members slid off the runway and went into the St. Johns River as it was attempting to land at Naval Air Station Jacksonville late Friday night.
A news release from the Jacksonville Sheriff's Office said the incident happened at about 9:40 p.m. (Eastern time) as the plane was arriving from Guantanamo Bay, Cuba.
Everyone on board is accounted for.
"Minor injuries have been reported, treated at the scene, and those requiring additional treatment were transported to a local hospital. There were no fatalities," the news release said.
"Navy security and emergency response personnel are on the scene and monitoring the situation."
The sheriff's office asked family members who were expecting the arrival of passengers to stand by until the passengers are released.
"An investigation into the mishap is underway," the news release said.
It was reported earlier that the plane landed in shallow water and was never submerged.
A tweet from the Jacksonville Sheriff's Office said: