Typhoon Hagupit Begins
[pullquote style="right" quote="dark"]Typhoon Ruby will make six landfalls from today to Monday. Please visit PRC's social media accounts for updates.        — Philippine Red Cross (@philredcross)RT @leolastimosa: Energy Secretary Jericho Petilla confirms power blackout in all Samar provinces.       — Hurricane Central (@twc_hurricane)[/pullquote]
Typhoon Hagupit, which was once the strongest typhoon of the year, made landfall as of 10:15 a.m. ET (9:15 a.m. local time) near the northern edge of the Philippine island of Samar, close to the community of Dolores. The storm is the equivalent of a Category 3 hurricane, with maximum sustained winds of about 125 miles per hour.
Samar was also the landfall location of Super Typhoon Haiyan in 2013, which killed at least 6,000 people, and displaced more than 100,000. However, that storm hit the island's southern edge.
While Typhoon Hagupit, which is also known as Typhoon Ruby in the Philippines, is nowhere near the intensity of Haiyan, its slow forward speed of about 13 miles per hour poses a different threat: flooding.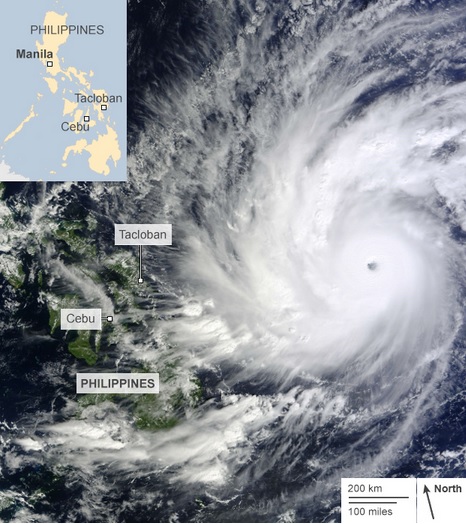 Tropical storms and typhoons can dump incredible amounts of rainfall and rain totals with Hagupit may exceed 2 feet in some places, particularly where winds blow up the slope of mountains, since this can enhance rainfall in a process known as orographic lifting.
The people of Legazpi hunker down ahead of Typhoon at one of the town's many evacuation centres.
— Trefor Moss (@Trefor1)
The Philippines is a mountainous country with many volcanic peaks, and such a high amount of rain falling in a short period of time can result in deadly landslides. Two volcanoes in particular lie within the storm's path, Mayan and Bolusan, and special landslide warnings have been issued for those areas.
Evacuations have been underway since Thursday for parts of Samar, including the city of Tacloban, which Haiyan severely damaged. International aid organizations, from Heifer International to the Red Cross, already have large teams on the ground in Samar that have been assisting with evacuations.
They have also been preparing to undertake relief operations once dangerous storm conditions abate.However, It does not appear that Tacloban is taking the brunt of the storm.
Coastal areas of northern Samar are being warned to prepare for a storm surge of 15 feet.
8 pm PhST analysis from JMA on Typhoon

— Mike Adcock (@senorpepr)
From Samar, the typhoon is predicted to slowly hopscotch across at least five more islands in the Philippines, bringing the risk of flooding, storm surge and high winds all the way to the capital city of Manila.[one_fourth]

[/one_fourth] [three_fourth_last]
                                             Precipitation outlook for Typhoon Hagupit, from the GFS forecast model.
While the worst of the storm's winds are buffeting Samar, and the storm is in a weakening phase, it will likely remain a formidable typhoon all the way to Manila.
Storm track forecast, with probability circles, for Typhoon Hagupit as of Saturday at 11 a.m. ET.
Next to feel the full force of the storm is the island of Masbate, including Masbate City, followed by Romblon, Mandoro and southern portions of Leyte, including low-lying and flood-prone Manila.
Even in the United States, floods are an underemphasized hazard of tropical cyclones, since the high wind and storm surge often get the most attention.However, floods can and do kill many more people, even from weaker storms.This is a particularly high threat in developing countries such as the Philippines,where a rapidly growing population has increased the public's exposure to landslides and other typhoon-related hazards.
Have something to add to this story? Share it in the comments.