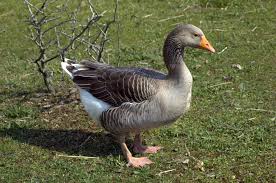 At Long Last, Peaceful Dialogue Between Man and Goose
WASHINGTON, June 4 (UPI) — A video going viral online shows how a man has opened up the lines of communication with one of nature's most misunderstood creatures, the Canada goose.
The Canada goose, often regarded as a pest in the United States, appears to have found an understanding soul in the form of a Dr. Dolittle-like man appearing in a YouTube video posted by Jeannie Cave.
The man honks and bobs his head in an imitation of the goose's call, leading the water fowl to enthusiastically respond with its own honk and head bob.
The pair's "Honky Talk Goose" conversation has been viewed nearly 3,000 views in less than four days on YouTube.