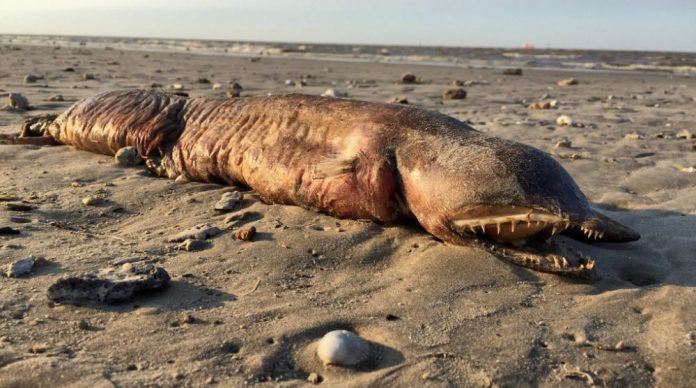 Sept. 14 (UPI) — A mysterious sea creature that washed onto the shore of a Texas beach in the wake of Hurricane Harvey was identified.
Preeti Desai shared photos of the unusual creature and discovered in Texas City and called on "biology Twitter" to identify it.
"Okay, biology Twitter, what the heck is this?" she wrote.
Desai told EarthTouch News she originally mistook the creature for a sea lamprey, but changed her mind and began searching for a second opinion when she got closer.
"It was just so unexpected," she said. "When I saw the mouth I thought no way was it a lamprey. It looked like something that came from deeper waters. So I took a couple photos and put it out into the Twitterverse, figuring it would deliver. And it did!"
Responses to Desai's challenge poured and many believed it to be an eel in the Opichthidae family, also known as snake-eels.
Smithsonian National Museum of Natural History biologist Dr. Kenneth Tighe identified the creature as a fangtooth snake-eel or "tusky" eel, but said it also might belong to the garden and conger eel family.
"It might be Bathyuroconger vicinus or Xenomystax congroides," he said. "All three of these species occur off Texas and have large fang-like teeth. Too bad you can't clearly see the tip of the tail. That would differentiate between the ophichthid and the congrids."
Desai told the BBC she left the eel on the beach "to let nature take its course," but was glad the scientific community came together to identify it.
"I follow a lot of scientists and researchers. There's such a great community of these folks that are very helpful, especially when it comes to answering questions about the world or identifying animals and plants," she said.