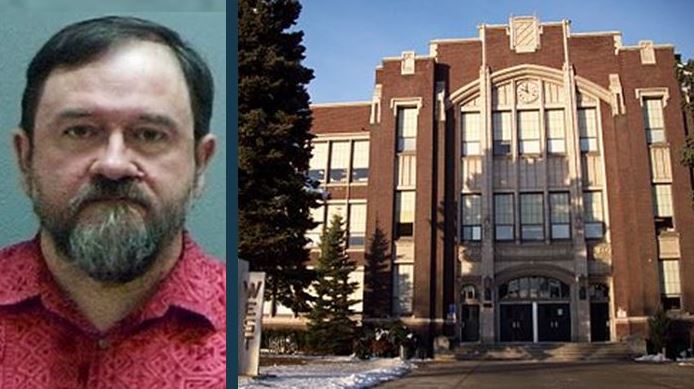 SALT LAKE CITY, Utah, April 24, 2019 (Gephardt Daily) — A teacher was arrested Wednesday at West High School and accused of sexually abusing a 17-year-old former student.
A probable cause statement from the 3rd District Court of Salt Lake County said Sterrett "Rett" Oney Neale III, 54, is facing:
Three counts of forcible sodomy, a first-degree felony
Three counts of object rape, a first-degree felony
Three counts of forcible sexual abuse, a second-degree felony
Neale was arrested Wednesday morning and transported to Salt Lake County Jail, where his bail has been set at $150,000.
The statement said that the victim disclosed that in the beginning of March 2017, when the she was 17 years old and attending West High School, Neale who "is/was a teacher at West High school," had touched the victim's breasts and private parts over her clothes. He also performed sex acts on the victim, while she touched the suspect's private parts over and under his clothes, and performed sex acts on him.
The victim said this occurred in the suspect's classroom, one to two times a week between March of 2017 to the end of May 2017.
The victim also disclosed that in August of 2017, while victim was still 17, she went to the suspect's house. At the suspect's house, both the suspect and the victim would undress and perform sex acts on each other, and the suspect would touch her private parts, the statement said.
The victim disclosed this would occur once every week to once every other week from August 2017 to February 2019.
The West High School student directory lists Rett Neale as teaching creative writing and language arts.
Principal Ford White sent a letter to parents of West High School students on Wednesday. It says:
Dear West High parents, students, and community, 
I want to inform you about an incident that took place at our school today. This morning, the Salt Lake Police Department arrested one of our employees. We are not privy to police investigation details, but this is what we know: 
The individual was arrested on charges of sexually assaulting a student in the 2017-18 school year. 
The events in question do not involve any current student. 
Police detectives determined there was probable cause in this situation and moved forward with the arrest this morning. 
This allegation is dreadful and, as parents, we know this will be of great concern to you. The employee has been placed on unpaid administrative leave and is currently in the custody of the Salt Lake City Police Department. The allegations against this individual are deeply unsettling, and we are committed to supporting the work of our police department in their investigation.  
We strongly encourage any students, staff, or faculty members who might be in need of support to reach out to me to be connected with one of our district crisis counselors, or to connect confidentially with a counselor via the SafeUT mobile app.  
Our teachers have been briefed on the situation and will monitor students who might need support. We have not received any additional details from the Salt Lake City Police Department at this time.  
Please don't hesitate to reach out to me directly if your student needs additional support or if you have any other questions. 
Sincerely,
Ford White, Principal
West High School
Salt Lake City School District
Gephardt Daily will have more on this developing story as information is made available.