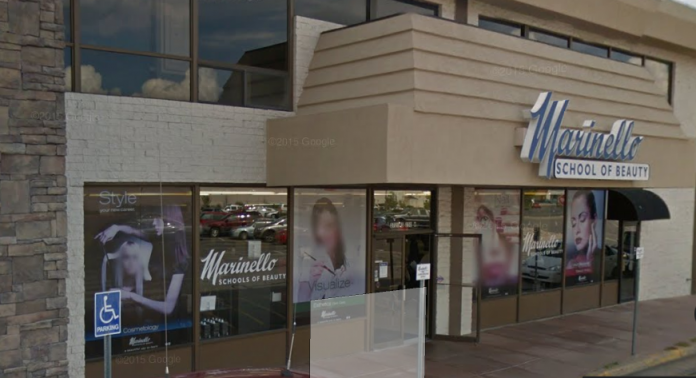 SALT LAKE CITY, Utah, Feb. 4, 2016 (Gephardt Daily) — Utah's three Marinello College of Beauty campuses closed permanently Thursday after the United States Department of Education cut access to federal financial aid to the company's 23 California and Nevada campuses.
Marinello responded by closing all 56 of its campuses, in Utah and also Kentucky and Connecticut.
In a Feb. 1 news release, the U.S. Department of Education alleged that Marinello:
Knowingly requested federal aid for students based on invalid high school diplomas
Under-awarded federal Title IV aid to students
Charged students for excessive overtime
Engaged in other acts of misrepresentation
Joe Hixon, a spokesman for the schools, said those claims were based on "flawed information."
Utah's Marinello School of Beauty campuses and associated salons, in Provo, Layton and Ogden, did not respond Thursday to phone calls. A student shared the corporate letter she was given regarding the developments.
"Dear Students," the letter full-page begins. "It is with great outrage and regret we must inform you about recent actions taken by the US Department of Education that threaten your education at Marinello."
The letter to students revealed that federal financial funding accounts for 80 percent of the school's budget. According to the U.S. Department of Education, Marinello received more than $87 million in Pell Grants and federal loans in the 2014-2015 school year.
The DOE gave Marinello has until Feb. 16 to provide documented evidence that the review is incorrect. The letter sent to students indicated Marinello would try to work with the DOE, but a Thursday
news release
from Marinello indicated the schools would close.
Hixon said the Department of Education has been less than forthcoming about its concerns.
"When the Department began to withhold funds from our deserving students two months ago, we pleaded with the Department to provide even basic information about its concerns, yet it refused to do so," he said in the statement.
"We are confident we would have been able to address them given Marinello's long history of compliance with regulatory requirements. The Department waited until we were past the point of no return financially to allow us any opportunity to respond to its unfounded allegations."
Marinello said its focus now is on providing "the best possible outcome" for its students, some of whom were weeks from earning their certificates.
"We are working closely with our state educational agencies, our accrediting commission, and well-respected schools to provide a smooth transition for our students so they are able to complete their education and achieve the life they have worked so hard for. We are also saddened by the loss of approximately 800 jobs and the end of a century-old institution."