HOLLYWOOD – December 20, 2015 — (Gephardt Daily) — Mark Wahlberg, Dwayne Johnson and HBO are being sued for allegedly stealing a TV show idea.
HBO's "Ballers" was one of the network's big hits for 2015. However, that success might be in question, as Everette Silas and Sherri Littleton are suing Mark Wahlberg and Dwayne Johnson for allegedly stealing their idea.
The complaint reads, "Plaintiffs are informed and believe and on that basis allege, that the more recent work, "Ballers," borrows heavily from the Materials and that certain aesthetic elements, including, without limitation, physical appearance of the characters and their vehicles, and plots, scenes, as well as story lines are virtually identical to the Materials that the Defendants had access to," says the jury trial seeking complaint of December 17 (read the entire document here).
The complaint never has Silas and Littleton actually meeting with Wahlberg, Levinson and Johnson or their direct reps over "Off Season."
The court document goes on to say, "The stories, character traits, scenes, and incidents portrayed in the two works, "Ballers" and "Off Season," are, in many respects, virtually identical and strikingly similar. These substantially similar elements, coupled with the defendants' direct access to the Materials, leaves little doubt that numerous elements of Ballers were copied from "Off Season."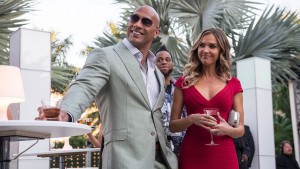 According to TMZ, Silas and Littleton came to them in 2007 with the idea for a show called Off Season.
The lawsuit claims both show's are set in Miami and focus around the off-field lives of professional African-American football players. Sound familiar?
Apparently talks fell apart in 2009 when Silas and Littleton wanted to be credited as the show's creators. They also claim "Ballers" was the name of an "Off Season" episode.
"We are confident the case has no merit," an HBO spokesperson said in a statement.
What it does have is their names being mentioned in 2008 and 2009 by producers the duo were talking to as possibly being attached to the project. The writers purport they were told that their materials were passed on to the trio.
The damages Silas and Littleton are seeking are undisclosed.