BEVERLY HILLS, Calif., Sept. 5, 2016 (Gephardt Daily) — TV's Wyatt Earp, Hugh O'Brian, has passed away at the age of 91.
The news of his passing was from a statement from the actor's youth leadership foundation (HOBY).
According to the news release, O'Brian's acting career began inadvertently in 1947 while he was attending a performance of Somerset Maugham's play "Home and Beauty." The leading actor fell ill and O'Brian agreed to take his place on stage. Inspired by great reviews, he decided to pursue a career on stage, which led to his first contract with Universal Studios.
After three years, O'Brian left Universal to guest star in numerous television shows and films such as "Broken Lance" and "There's No Business Like Show Business." His breakthrough came in 1955 when he was chosen to portray lawman Wyatt Earp in "The Life and Legend of Wyatt Earp." O'Brian's charisma and talent brought the oversized-pistol-toting lawman to life and launched the show to seven consecutive appearances in the nation's top ten most watched television list.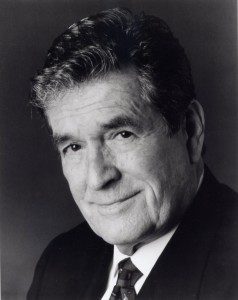 O'Brian continued to appear in countless on-screen and Broadway projects. On television, he made guest appearances in series such as "Fantasy Island," "The Love Boat," and "Charlie's Angels." On Broadway, he starred in "Destry Rides Again," "First Love," and "The Odd Couple." O'Brian's major film career lasted for decades, including his 1976 appearance in "The Shootist," which was John Wayne's final film, the 1988 appearance in "Twins" costarring alongside Danny DeVito and Arnold Schwarzenegger and his 1994 cameo appearance in "Wyatt Earp: Return to Tombstone."
At the peak of his acting career, O'Brian journeyed to Africa to spend nine days with Dr. Albert Schweitzer, the 1952 Nobel Peace Prize Winner. Schweitzer instilled in him a simple belief: "the most important thing in education is to teach young people to think for themselves." Before O'Brian left Africa, Dr. Schweitzer grabbed his hand and asked him, "What are you going to do with all of this?"
O'Brian returned to the United States resolved to put Dr. Schweitzer's words into action, and he founded Hugh O'Brian Youth Leadership in 1958. He imagined a non-profit organization rooted with the mission to inspire a global community of youth and volunteers to a life dedicated to leadership, service, and innovation.
For 58 years, HOBY has helped to cultivate tomorrow's leaders. To date, over 470,000 alumni have participated in its various programs. These programs annually provide more than 12,000 local and international high school students with opportunities to participate in unique leadership training, service learning, and motivation-building experiences.
"I believe every person is created as the steward of his or her own destiny with great power for a specific purpose: to share with others, through service, a reverence for life in a spirit of love," O'Brian once said.
O'Brian was born Hugh Charles Krampe on April 19, 1925, in Rochester, New York, to United States Marine Corps officer Hugh John Krampe and his wife, Edith. Growing up, O'Brian attended New Trier High School in Winnetka, Illinois, and Kemper Military School in Booneville, Missouri, where he was a multi-sport star in football, basketball, wrestling, and track.
After graduating high school, O'Brian enrolled at the University of Cincinnati to pursue a career in law. After only one semester, at the age of 17, he left the University and enlisted in the Marine Corps during World War II, where he then became the youngest drill instructor in the Corps' history. On June 25, 2006, at the age of 81, O'Brian married long-time partner, Virginia Stumpf (Barber).
O'Brian is survived by his loving wife, Virginia O'Brian, his brother Don Krampe and Don's wife Jean, his sister-in-law Wendy Stumpf Hughes, and seven nieces and nephews as well as an incredible legacy of a life of service, and an organization that will continue his lifelong dream of helping youth reach their potential as leaders.
Contributions may be made in lieu of flowers to the Hugh O'Brian Legacy Fund, a fund created with Hugh's and Virginia's input and support. The Hugh O'Brian Legacy Fund is an endowment with the goal of providing support for students to participate in any HOBY program.