November 3, 2015 (Gephardt Daily) — Three films are hitting home video today. Disney/ Pixar's "Inside Out," Warner's re-boot of the "Vacation" franchise and an independent faith-based film called "The Miracle Maker."
"Inside Out"
Starring: Amy Poehler, Phyllis Smith and Lewis Black
Directed by Pete Docter and Ronnie Del Carmen
Rated PG
"Inside Out" is Disney/ Pixar's fifteenth animated film and focuses on young Riley, who is uprooted from her Midwest life when her father starts a new job in San Francisco.
Like all of us, Riley is guided by her emotions – Joy, Fear, Anger, Disgust and Sadness.
The emotions live in Headquarters, the control center inside Riley's mind, where they help advise her through everyday life.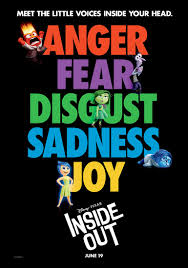 As Riley and her emotions struggle to adjust to a new life in San Francisco, turmoil ensues in her mind as her emotions conflict on how best to navigate a new city, house and school.
The theme of what's going on inside one's brain isn't a new concept, check out Woody Allen's "Everything You Aways Wanted to Know About Sex* But Were Afraid to Ask." The "Brain & Body" segment in that is absolutely one of the funniest segments ever put to film.
Also there was a short-lived sitcom called "Herman's Head," which aired for three seasons between 1991 and 1993 offered up a look into the goings on in a guy's brain. "Inside Out" uses that premise to explain the extreme ups and downs as children learn to master their emotions.
I hope some adults I know, after seeing this film, will make a better effort to control theirs, as well.
"Inside Out" is a very likable story and well animated. And, as with many Pixar movies, the parents will walk away with more than the kids do as the film does a great job of explaining how kids try to master their emotions, especially in the face of some pretty big changes.
"Joy," voiced by Amy Poehler, is Riley's main and most important emotion, tries to keep things positive, other emotions begin to gain ground. "Anger," "Fear" and "Disgust" all have their moments in the film; but it is "Sadness," voiced by Phyllis Smith, who surprisingly becomes the grounding wire for Riley and her emotional imbalance.
The delicate relationship between "Sadness" and "Joy," ultimately saves the day as we learn the bond that exists between all of our internal emotions is wonderful, complex and simple all at the same time.
"Inside Out" gets an A and is rated PG.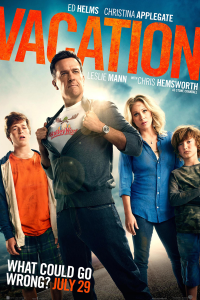 "Vacation"
Starring: Ed Helms, Christina Applegate and Chevy Chase
Directed by: John Francis Daley & Jonathan M. Goldstein
Rated R
Hoping to bring his family closer together and to recreate his childhood vacation for his own kids, a grown up Rusty Griswold takes his wife and their two sons on a cross-country road trip to the coolest theme park in America, Wally World.
Needless to say, things don't go quite as planned.
Not really a sequel or much of a re-boot, "Vacation" is only a shadow of the original film (which spawned two other films) and even uncomfortably tells us such in one scene.
Mostly a series of gross jokes, set-ups and sight gags, "Vacation" really is only a repeat of a lot of tired jokes and forced humor. From bathing in raw sewage to sight gags revolving around their station wagon (A 2015 Tartan Prancer, "the Honda of Albania") "Vacation" can't seem to get out of neutral.
Overall, while "Vacation" is not completely without merit, it's still a very predictable and forced comedy.
The sad part is because of it's heritage, it could have been so much more.
Vacation" earns a C and is rated R.
"Miracle Maker"
Starring: Brian Krause, Melanie Stone and Adam Johnson
Directed by: John Lyde
Rated G
The "Miracle Maker" is about a small town under the thumb of a wealthy controlling man who has stripped the town of happiness.
But hope is being raised when the townsfolk hear the news a renowned man of wonders is coming to their village. But when he arrives, he isn't what anyone expected.
It seems this man can barely take care of himself, let alone fulfill the dreams of others.
But miracles can come in all shapes and sizes-and sometimes from unexpected places.
Although the film has a "small-budget" quality about it, those who enjoy family-friendly and faith-based films will not be disappointed. "Miracle Maker" offers up some solid acting and pacing.
It gets a B and rated G.