Danny Pino Leaves 'Law and Order: SVU' After Four Seasons
NEW YORK, May 21 (UPI) — Danny Pino is leaving Law and Order: SVU where he played Olivia Benson's partner, Detective Nick Amaro.
On Wednesday night's season 16 finale, Amaro was shot in the line of duty, ending his four season run on the crime-fighting show.
Amaro's partner Sgt. Benson, played by Mariska Hargitay, shared a few last words with her wounded colleague, saying: "I grew more in the last four years with you than I did in the 12 years I was with [Stabler]. That relationship, whatever it was, didn't allow for anything else. But with you, with your support, I have a family. You helped me grow."
Off-screen, Hargitay posted a photograph of the two on Twitter, writing, "#friendsforlife"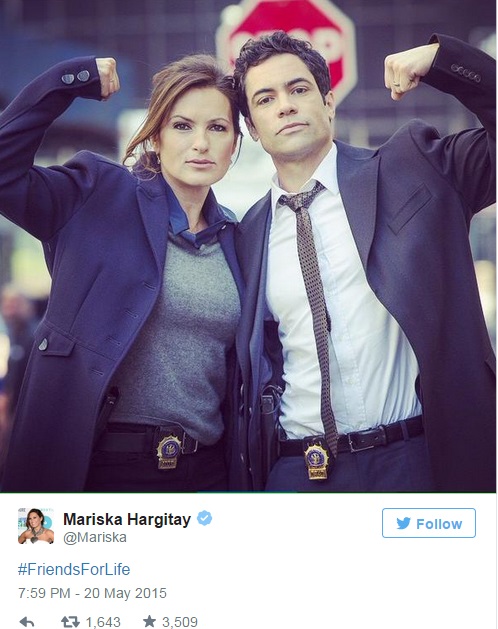 Pino, who debuted on the show in season 13, also took to Twitter, after the finale aired, to say thank you.

When the show returns for its 17th season this fall, Sgt. Benson is getting a new partner along her side, but Hargitay hasn't got a clue as to who is filling Amaro's position.
Before Wednesday's finale, the actress told E! news, "Fin [Ice T] has the most experience but is happy where he is. Amaro wants it, but he's not popular with the brass. Olivia would much prefer someone in the squad step up, but who? 
Actually, I think sometimes the best person is the one you least expect."
She added: "That always makes the most interesting dynamic. Or maybe it's just the person who wants it the most, that's who ends up stepping up to the plate. Then there's always the possibility that it's the person who wants it the least. The person who says, 'Wait, what? Me? Absolutely not.' And then they come through and shine in the position. Which is my extended way of saying, 'Your guess is as good as mine.'"