LOS ANGELES, July 5 (UPI) — Dwayne Johnson and the cast of "Baywatch" celebrated July Fourth by releasing a new patriotic motion poster.
"Happy Fourth of July," the image says alongside stars Kelly Rohrbach, Alexandra Daddario, Priyanka Chopra, Ilfenesh Hadera, Jon Bass and Zac Efron who are seen wearing red, white and blue swimsuits.
Johnson, situated in the middle, stands tall rocking an Uncle Sam top hot with a blue sparkler going off in his hand.
"On MAY 19th, 2017 you will witness these amazing women @kellyrohrbach @alexannadaddario @priyankachopra @ilfenator save lives, @thejonbass steal the show, @zacefron's ripped 28 pack abs and some big, brown, bald tattooed guy just kinda standing around. #Happy4thofJULY #BaywatchFamily," the actor wrote captioning the pic on Instagram Monday.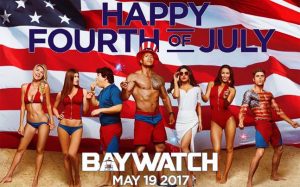 The action comedy directed by Seth Gordon follows an experienced lifeguard played by Johnson who is forced to join forces with a young upstart played by Efron in order to save their beach from an environmental disaster.
The film adaption will also bring back original "Baywatch" stars David Hasselhoff and Pamela Anderson who starred in the classic television series of the same name which ran from 1989 to 2001