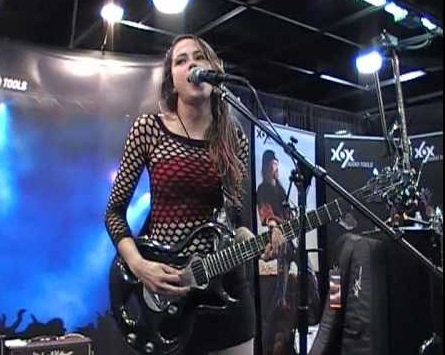 The Fabulous Miss Wendy- How To Get Into the Biz
The Fabulous Miss Wendy is a punk-inspired rock princess from Hollywood. She has come a long way since picking up a guitar at the age of ten and becoming a virtuoso two years later.
The Fabulous Miss Wendy went on to beat hundreds of girls to nab the lead spot in a Nickelodeon all-girl rock band and later carried her rock-n-roll message to American troops stationed in Bagdad on two musical tours-of-duty. Upon returning, Wendy finished third in the United States' "World Battle of the Bands Competition" and won a "VH-1 Recommended Artist" award.
[one_fourth]
[/one_fourth]
Wendy became one of ten finalists to become Gibson Guitars' "SG Gal" and her video "I Like Boys" was nominated for LOGO's "Ultimate Sexiest Videos" weekly contest beside videos from artists including Ciara, Kelly Clarkson, Lady Gaga and The Pussycat Dolls.
In 2011, The Fabulous Miss Wendy successfully released her debut, self-titled, full length CD produced by Devo's Gerald Casale, engineered by Goo Goo Dolls' wizard, Paul David Hagar, also of Avril Levine and All American Rejects fame, and driven by the fierce pounding of super-drummer Josh Freese. VH-1 used six of the tracks on the successful hit reality television shows "The Pick-Up Artist" and "Tough Love".
Slash later invited her to join him on tour and, following the tour, she hit the road before working with legendary producer Kim Fowley on her next album.
We asked her advice for getting into the music scene. "Well I guess the first thing is nobody's going to make it happen for you, you have to make it happen for yourself, it doesn't matter how much talent you have, you still have to try and get it out there," she said. "You can't be afraid of change, people are very afraid of change, you have to be the person that can rise above. You have to be very flexible, you have to be able to deal with whatever comes your way. If you have these expectations that are sky-high when you're starting out, you're probably going to be pretty disappointed.
"Be yourself, if you try and be like somebody else, or if one particular genre of music might be popular right now, and you want to do that because it's an easy way in, people are going to be able to see through that. If you're a girl today, and you want to be a musician, want to be a recording artist, you're going to have to deal with a lot of stuff, a lot of uphill battles, but it's totally worth it and anything that's worth it is going to be an uphill battle."