George and Amal Clooney Visit His Kentucky Hometown
AUGUSTA, Ky., June 5 (UPI) — George and Amal Clooney caused a social media frenzy with a quick trip to his hometown of Augusta, Ky.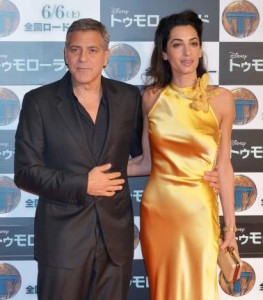 The "Tomorrowland" actor and his wife, who visited Augusta for the actor's annual family reunion, turned up at several local spots.
Magee's Bakery posted photos with the owners and the famous couple with the caption, "This guy and his wife show up wanting to take pictures. This one time would not hurt. Fame, what can you do." George Clooney ordered some of Magee's famous transparent pies.
Along with his whole family, the couple went to dinner at Caproni's on the River in Maysville. After eating, he took photos and chatted with in-house musician David Hall. The whole group sang "Happy Birthday" to a woman celebrating at the table next to them.
The couple stopped by Augusta High School on Wednesday, where George Clooney played basketball with students while his wife watched.