HOLLYWOOD, Calif., Feb. 5, 2016 (Gephardt Daily) — The six-string Martin guitar Kurt Russell smashed against a wall in the Quentin Tarantino film "The Hateful Eight" was an actual antique guitar lent to the production from Martin Guitar's Historical Museum.
The Martin Guitar Museum loaned the one-of-a-kind, 150-year-old guitar under the assumption that it would be swapped out with a replica prior to its destruction during filming.
However, as "That Hateful Eight" sound mixer Mark Ulano explained to SSN Insider, "somehow that didn't get communicated to Kurt."
Russell ended up smashing the irreplaceable instrument against an interior post.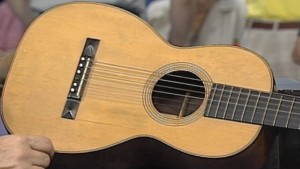 Martin Guitar officials aren't happy about the mix-up, and in a statement to Reverb, museum director Dick Boak called the incident "distressing."
Boak added: "We can't believe that it happened. I don't think anything can really remedy this. We've been remunerated for the insurance value, but it's not about the money. It's about the preservation of American musical history and heritage."
"As a result of the incident," Boak said, "the company will no longer loan guitars to movies under any circumstances.