LOS ANGELES, June 20 (UPI) — Police are investigating whether the Jeep Grand Cherokee that struck and killed actor Anton Yelchin had transmissions issues.
Yelchin was killed Sunday after he was pinned by his own SUV at his Studio City, Calif., home after apparently leaving the vehicle parked in neutral on a fairly steep incline.
The 2015 model Jeep Grand Cherokee, a rep for Fiat Chrysler Automobiles explained to People magazine, is the same model that the company recalled in April for a possible transmission issue.
The automaker said 2014 and 2015 Jeep Grand Cherokees manufactured between July 16, 2012 and Dec. 22, 2015 were recalled after the National Highway Safety Administration investigated the possible defect. Now police are doing the same.
"We are looking into that," a spokesperson for the LAPD noted. "The investigation is still ongoing and the traffic detectives will look at all of those factors as they would in any traffic collision investigation. So, at this time we're not sure what caused it, but that's something investigators are looking at."
According to the National Highway Safety Administration's report, the vehicle's gear shift design makes it difficult to tell what gear the vehicle is in, noting that "drivers erroneously concluding that their vehicle's transmission is in the 'park' position may be struck by the vehicle and injured if they attempt to get out of the vehicle while the engine is running and the parking brake is not engaged."
In a statement to People, Fiat Chrysler Automobiles said "FCA US extends its most sincere condolences to the family and friends of Mr. Yelchin. The company is in contact with the authorities and is conducting a thorough investigation."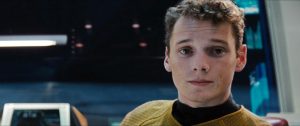 Following the actor's death, dozens of Hollywood stars took to social media to offer their condolences including William Shatner, Olivia Wilde, Anna Kendrick, Chris Evans, Elijah Wood, Jodie Foster and J.J. Abrams, to name a few.
Yelchin's film credits include roles in "Taken," "Along Came a Spider," "Hearts in Atlanta," "Huff," "Terminator Salvation," "Fright Night," "Like Crazy," "House of D," "Alpha Dog," "The Beaver" and the rebooted "Star Trek" franchise, which Yelchin will be seen in again with "Star Trek Beyond," out in theaters July 22.