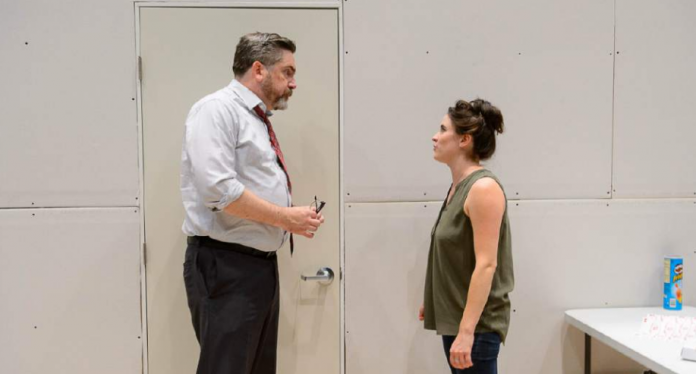 SALT LAKE CITY, Utah, July 19, 2017 (Gephardt Daily) — In a trash-strewn, unfinished break room, under unflattering florescent lights, Una and Ray remain fully clothed as they strip away each other's defense mechanisms, delusions, excuses and lies.
As the lead characters in David Harrower's Tony-nominated drama, "Blackbird," Una and Ray have a past to sort out.
She was 12 and innocent when he initiated a sexual relationship. He was 40, and knew she was too young to consent. After prison, he changed his name and built a modest career in business.
The play begins 15 years later, just as Una tracks down Ray and appears at his office. And what happens next is 90 minutes of uncomfortable confrontations and revelations, and maybe a few truths. Or maybe not.
The jarring and powerful "Blackbird" plays through July 30 at Utah Repertory Theater, in Salt Lake City. It is not for the faint-hearted, and anyone who comes from an abusive background may want to read up on the plot before buying a ticket.
Mark Fossen is masterful as Ray, who wants nothing more than to forget his past and move forward. He has a hard time facing Una. He averts his eyes, stops mid-sentence, begs her to leave, and ultimately seems to share his truth.
Anne Louise Brings offers a seamless portrayal of the emotionally shattered Una, forever changed, filled with rage, yet perhaps still hoping that not everything Ray had told her was a lie.
The script offers a complex battle of wits to get at "the truth," such as it is for these two characters. The set and lighting are uncomfortable and unforgiving — the perfect battlefield for two broken people with unfinished business.
Director L.L. West cast the right actors, and made all the right calls in this tight production of a relentless script.
This Utah Rep production will raise more real-world questions than its fictional characters can answer. For those who are up to it, "Blackbird" is an interesting, provocative night of theater.