April 24, 2016 (Gephardt Daily/Houzz.com) — Spring is a key time in the property market and, thankfully, it's easier to make your home look sparkling and inviting when the sun's shining. Use the warmer weather and longer days to prepare your home for sale by following these tips, which don't cost much but make a world of difference. The sooner you sell, the sooner you can be moving into your new home, according to home improvement website Houzz.com.
Remember first impressions count. Set the tone for buyers with a beautiful front yard and exterior. Whether you have a driveway, a small garden or a large landscaped frontage, make it look the absolute best it can. In spring, add bedding plants in hanging baskets or tubs and make sure the lawn and shrubs are well-trimmed.
Fix that squeaky gate, loose fence board and ivy in the gutters too.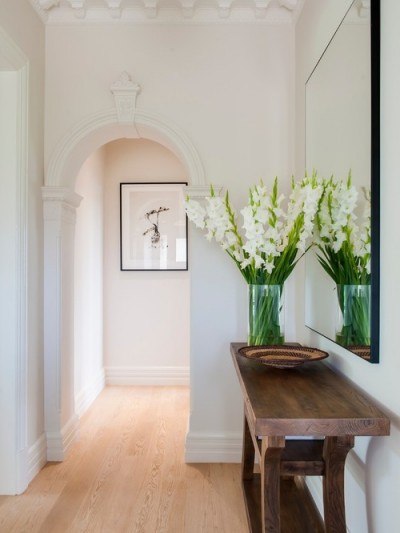 Pep up your porch and hallway. Once buyers cross the threshold, they need to see that your home is clean and tidy and has plenty of space. Store your coats, shoes, strollers and bikes out of sight. A console table with a pair of lamps and a large mirror in the entry is a classic way to present your home as spacious and attractive.
Be wary of any unpleasant odors from pets, shoes or cooking. Don't try to mask smells with a spray air freshener. Instead, remove the source of the problem, clean thoroughly, air out the space and use a room diffuser or scented candle to create a luxurious and welcoming scent for visitors.
Deal with the little jobs. Tend to any little defects and unfinished projects. Your buyers will notice these subtle visual hints at damage or neglect, even if it's subconsciously.
You might not be seeing the chips in the paintwork or scuffs on the woodwork, so before you have the real estate agents over, take lots of photos from different angles and really scrutinize them. List everything that needs to be done, then either tackle the odd jobs yourself or hire a handyman or decorator.
Remember, buyers may be put off by signs of neglect or poor maintenance and either walk away or make a low offer.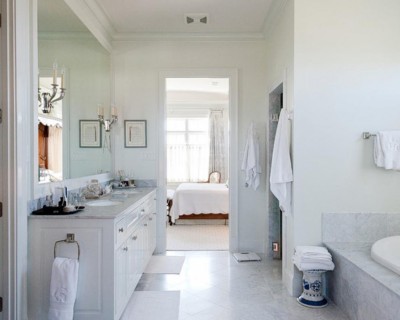 Cull the clutter. Bathrooms should be neat and tidy. There should be plenty of storage to stash everyday toiletries, leaving space to display fluffy towels, scented candles and pretty jars and soaps.
The better you make your house look for the photos, open house or viewings, the quicker it will sell, so stash your odds and ends out of sight — and always put the toilet seat down!
Create a welcoming feel. Depending on the time of year and time of day, use soft lighting and a fire in the fireplace to create a cozy feel. If it's a warm, sunny day, pull back the curtains and open the windows to let in fresh air.
Make your kitchen count. The kitchen is a key room for potential buyers. You've probably heard the saying, "Kitchens sell houses," so make sure yours looks as clean and modern as possible.
It's generally not worth installing a new kitchen when you know you're going to be selling, but consider updating tiles or counters or regrouting and sealing them to make your kitchen look well-maintained.
Go for the boutique hotel look. Bedrooms are actually pretty easy to style for maximum impact. Provided you have a suitable-size bed for the space and a pair of matching bedside tables and lamps, the rest is more or less about dressing the bed.
Home stagers and interior designers generally use crisp white bedding, a stack of fat pillows and a plump duvet. Add coordinating accessories based on the existing colors in the room.
Tame the toddler (or teenage) bedrooms. Children's rooms can be a bit of a clutter zone, and even downright hazardous, what with errant dinosaurs and toy cars to tread on.
Two key things here: Have nothing in sight that will offend potential buyers, such as dodgy teen posters or piles of stale laundry, and show that there's no issue with storage. Recruit the kids to have a good clear-out and donate anything they've outgrown or won't read, watch or listen to again, then ruthlessly stow everything else away.
Define your dining room. Dining rooms often become the home office, playroom or an extended zone of the living room or kitchen. A dining table and chairs, presented as an eating area and not a work space, will create the impression of a relaxed home where you have time to dine together as a family and plenty of space in which to do so.
Create a vision of an outdoor lifestyle. When your home is on the market, you want to encourage potential buyers to see themselves living there. They want to imagine relaxation, socializing and barbecues.
Help them visualize their new life by showing your yard as a space in which to sit, play and watch the sunset with a bottle of something chilled. That means having things pruned, tidied and planted. A little outlay early in the spring will reap the rewards as soon as the weather warms up. Oh, and don't forget the allure of freshly cut grass: Who doesn't love that smell?