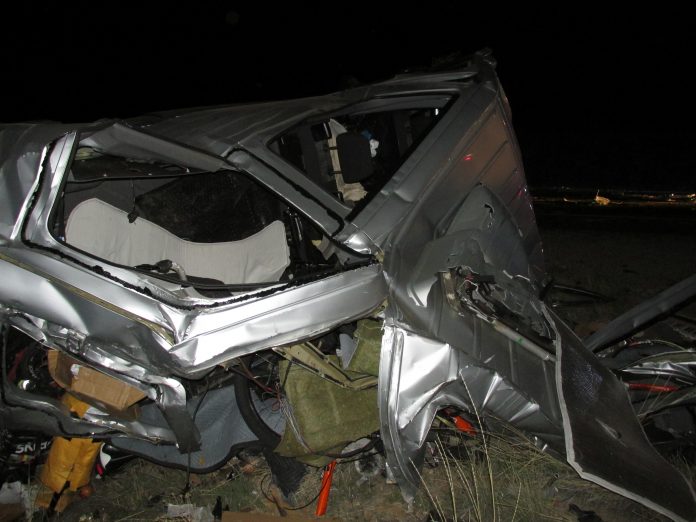 GRAND COUNTY, Utah, April 5, 2017 (Gephardt Daily) — Two people are dead after a van and a semitruck collided with an overturned semi on Interstate 70 in Grand County early Wednesday morning, officials said.
The incident occurred just before 12:30 a.m. on I-70 eastbound at mile post 214, when a semi and trailer drifted off the right soft shoulder, according to a news release from the Utah Highway Patrol.
The driver of the semi over-corrected back across the eastbound travel lanes, sending the truck and trailer onto its side, and blocking the two eastbound lanes, the news release said.
A Mercedes-Benz Sprinter van crashed into the overturned truck, going through the trailer and coming to a rest on the other side. The occupants of the Mercedes van exited and started walking around looking at the scene. A second semitruck and trailer ran through the same spot slamming into the back of Mercedes van.
The driver of the Mercedes, who was still outside, was struck by the second semitruck and killed.  He has been identified as Stephen G. Tilford, 57, from Topeka, Kansas.
This crash caused the second semi to jackknife, killing the driver inside. He has been identified as Stanley Williams, 70, from Grand Junction, Colo.
I-70 was closed until the crash was cleared just before 5 a.m.