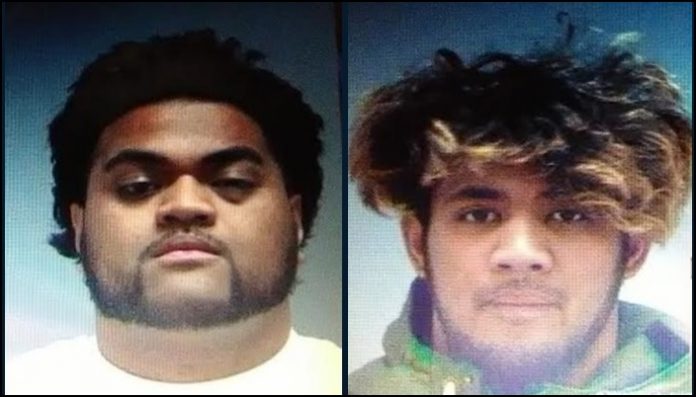 For an updated story, click here.
SOUTH SALT LAKE, Utah, Nov. 12, 2018 (Gephardt Daily) — South Salt Lake police have arrested two men they say shot into a crowd of people in the parking lot of Scallywags night club at about 1 a.m. Sunday.
A woman in the crowd was transported to the hospital in critical condition with multiple gunshot wounds. She was reported to be in stable condition later Sunday.
Falefatu Fatiau, 27, and Stephano Tuisila, 22, were booked into Salt Lake County Jail on charges relating to the incident, which police say began with a fist fight inside the bar at 3040 State St.
"One patron involved in the fist fight is in the hospital. He has some serious injuries," Gary Keller, spokesman for South Salt Lake Police Department, said at the scene.
Scallywags' security staff escorted those who participated in the fight out of the building.
Keller said that once the offending patrons were out in the parking lot, a glass was thrown and another fight erupted.
That's when, police say, Fatiau and Tuisila went to their vehicle and took out a "handgun and an assault rifle" and started shooting into the crowd.
Officers were able to stop the vehicle as the suspects attempted to leave the parking lot.
According to booking information, Fatiau is facing charges of:
Possession of a dangerous weapon by a restricted person
Felony discharge of a firearm
Aggravated assault resulting in serious bodily injury
He is being held on a $250,000 bond.
Tuisila faces charges of:
Felony discharge of a firearm
Aggravated assault
He is being held on a $255,000 bond in this case, according to booking information.
Gephardt Daily will update this story as more information is made available.