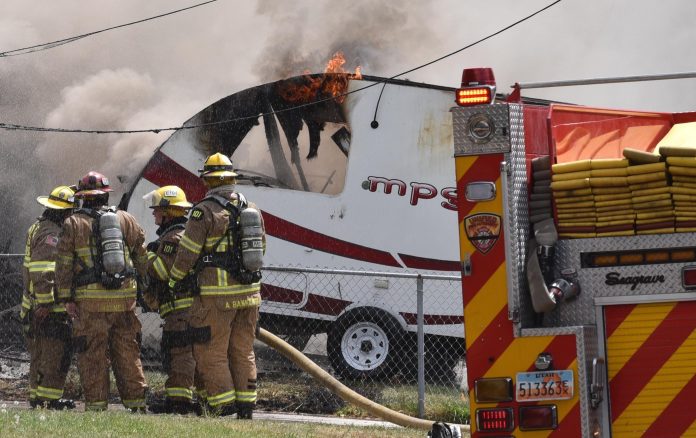 MILLCREEK/COTTONWOOD HEIGHTS, Utah, Aug. 17, 2018 (Gephardt Daily) — A two-alarm fire Friday afternoon drew about 20 firefighters from three agencies to the Milcreek/Cottonwood Heights border neighborhood and a garage fire that threatened three residences.
A fire broke out in the detached four-car garage at 2912 Russell St.
"Upon arrival … the left side was fully involved," said Keith Garner, spokesman for the Unified Fire Department. "There were a lot of flames. It also went on the right side, with the other two cars, with exposure to the house on the left, the house to the right, and the house behind the garage.
"All the houses had some exterior damage, nothing internal."
No residents were on scene at the time of the fire, so none were threatened or injured, Garner said.
"The garage is completely lost, as well as a small camper that's about half burned up as well."
An area resident who gave his last name as Heath said he tried to save the camper.
"We noticed the fire at the back of the garage, and the trailer was opened up," he said.
There was a policeman who pulled in front of us, so we asked him if we could pull (the trailer) out. We have a hitch on the back of our truck."
But the jack wouldn't go down, Heath said. "We kept trying and trying," but the fire grew, and the two had to leave. "I was afraid the trailer was going to burn up, propane tanks on the front were going to explode."
The camper did burn, but did not explode. As of 3 p.m., about a dozen firefighters remained at the scene, "mopping up," Garner said. At the height of the fire, crews from Unified, Murray Fire Department and the Salt Lake Fire Department were all on the scene.
The cause of the fire was still under investigation, Garner said. A power pole had a line down, but he was not sure if the line had come down and possibly sparked the fire, or whether the line came down after the fire began, he said.