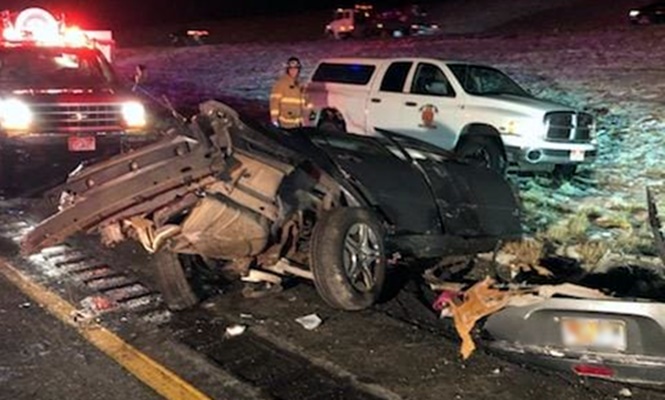 JUAB COUNTY, Utah, Dec. 1, 2019 (Gephardt Daily) — Utah Highway Patrol responded Sunday night to a crash on Interstate 15 that ultimately involved four vehicles and split one of the vehicles in two.
The incident, at milepost 230, was reported at about 7:44 p.m., after the driver of a northbound 2008 Chevrolet Malibu lost control and crossed the median, striking a southbound 2015 Audi.
The impact caused the Malibu to break into two pieces.
"Most of the right side of the Malibu came to rest in the median. The left half that contained the restrained driver, flew across the southbound lanes and rolled over the top of a 2011 Hyundai Sonata," a news release from Utah Department of Public Safety said.
The Audi spun off the road onto the west shoulder, where it stopped.
The red Sonata, which was occupied by two females, continued down the road and stopped.
A Black 2015 BMW sustained "moderate damage" when it was struck by flying debris.
Utah Highway Patrol reported that all occupants were restrained, and injuries were "mostly sustained by occupants of the Audi and Malibu." Their injuries were considered serious.
The occupants of the BMW and Sonata did not report any injuries.
Officials said that no alcohol or drugs are suspected, "but speed is definitely a factor in the crash."
Southbound I-15 was closed at the Mona exit while the crash was investigated and the area cleared. The freeway has since been reopened.