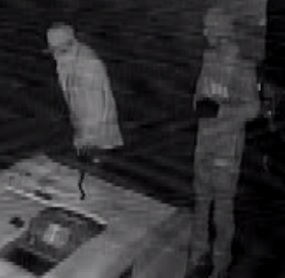 MIDVALE, Utah, May 14, 2016 (Gephardt Daily) — Unified Police are searching for two suspects who went head to head with an ATM machine– and lost.
A news release from Unified Police Department spokesman Lt. Lex Bell said officers responded to an ATM alarm at the Granite Credit Union, 6799 S. 900 East, on Tuesday, May 10 at 2:10 a.m.
The news release said: "The drive-thru ATM was located near the rear doors of the business and had been extensively damaged. A review of surveillance video revealed that the two suspects had arrived in a truck and parked it next to the drive-thru ATM. Both got out of the truck and looked over the ATM.
"They then used the truck to back into the ATM and knock it off of its cement stand. The truck then pushed the ATM around to the rear of the building where the two suspects can be seen using a tool to try to break into the machine.
"The suspects were unable to access the cash in the ATM with their tools, so one of the suspects tried ramming the ATM into the curb with the front end of the truck. The ATM won this battle, and the suspects left empty handed with a heavily damaged truck. We believe that the front and rear of the truck will have significant, obvious damage as a result of ramming the ATM."
The first suspect is described as a tall, slender Caucasian male. He was wearing black gloves and his face was uncovered.
The second suspect is described as a Caucasian male, 5 feet 7 inches tall and stocky. He had his face concealed with a white bandana or something similar.
The suspect vehicle is a newer Ford F-150, four-door, dark color with lighter trim, possibly a King Ranch Edition. It will have damage to the front and rear end and is also missing a tail-light. It has a possible partial plate of "644" or "G44" Utah Arches plate.
UPD detectives believe the truck may have been abandoned due to the damage caused by ramming the ATM.
Anyone with information is encouraged to call the Midvale Property Crimes Detectives directly at 385-468-9311.