SALT LAKE CITY, Utah, Sept. 12, 2017 (Gephardt Daily) — The man charged in the shooting death of a University of Utah student has been sentenced to life in prison without parole following a guilty plea.
Austin Boutain's plea deal will resolve all Utah cases against him, including aggravated murder, attempted aggravated murder, and aggravated kidnapping in connection with the shooting incident.
Boutain also pleaded guilty to one count of aggravated assault by a prisoner and one count of damaging a jail for misconduct at the Salt Lake County Adult Detention Center after his arrest.
According to the Salt Lake County District Attorney's Office, Judge Richard D. McKelvie sentenced Boutain to life without the possibility of parole for aggravated murder, five years to life for attempted aggravated murder, 15 years to life for aggravated kidnapping, one to 15 years for aggravated assault by a prisoner, and up to five years for damaging a jail. All sentences are to be served concurrently.
Slain University of Utah student ChenWei Guo's family agrees with and supports this resolution, the District Attorney's Office said in a news release.
Boutain was in jail on 14 charges related to the Oct. 30 shooting death of 23-year-old Guo, whose car passenger, according to court documents, escaped an attempted kidnapping as she was being fired upon. That passenger and her family also agrees with and supports Boutain's sentence, the news release said.
Boutain was held without bail in the Salt Lake County Jail for investigation of aggravated murder in the death of Guo.
The news release from the District Attorney's Office states: On the evening of October 30, 2017, ChenWei Guo, an international student from China, and his friend 'X. D.' were around Red Butte Canyon. Austin Boutain, a homeless man who had most recently been living in Wisconsin, had been camping up in the Canyon. He knocked on the driver's window of Mr. Guo's car with the intention of taking that car. Mr. Guo attempted to drive off but Boutain shot him, through that car window, and killed him. Boutain then went up a hill to get more ammunition. When he came back down to get the car, he could hear X. D. on the phone with a 911 operator. Boutain opened the passenger door, pointed the gun at X. D., and ordered her to go with him up the hill. X. D. dropped the phone on the ground and took off running. Boutain shot at her several times but missed.
A probable cause statement released by Salt Lake County Sheriff's Office says that after being read his Miranda rights, Boutain, 25, admitted to shooting Guo in the victim's vehicle on Red Butte Canyon Road with "intentions of taking his vehicle."
"Boutain admitted to stealing three firearms from a residence in Colorado, one of which was recovered by police," the probable cause statement says. "Boutain post-Miranda said he had traded one firearm, a .38 cal. Smith and Wesson, for one ounce of marijuana. The other weapon used in the homicide was hidden in the crevice of a brick wall, near the homeless shelter. Boutin returned to retrieve the weapon, and found it missing."
Boutain also took officers to the makeshift camp where he and his wife were staying in Red Butte Canyon, the statement said.
Once at the camp, officers found the holster and spent cartridges for a .44 caliber Ruger, which they said was used in the fatal shooting.
The statement also said that Boutain assaulted his wife with a firearm, causing injury to her.
It was just after 8:30 p.m. Oct. 30 when police were alerted to a report of domestic abuse from Boutain's wife, Kathleen, who said the two had been camping in Red Butte Canyon. Within 15 minutes or so, a call came in reporting a shooting in the canyon.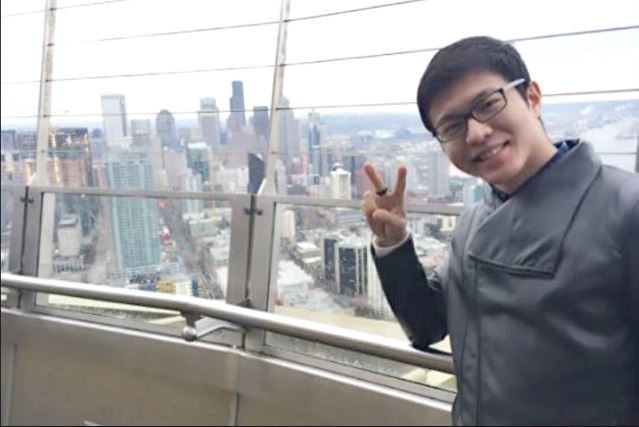 International student Guo — a native of China who first came to Utah as a missionary for The Church of Jesus Christ of Latter-day Saints — had been killed in a carjacking attempt.
More than 100 police officers from many different agencies descended on the University of Utah campus and the area near Red Butte Canyon. FBI agents responded, as did law enforcement officials in helicopters and armored vehicles. Police dogs tried to sniff out the suspect. Boutain was spotted and arrested the next day in the City Library at 210 E. 400 South.
The Attorney General's Office stated both Boutains are suspects in the murder of a man from Golden, Colorado.
In February, Boutain was also charged in related to an alleged assault in prison. The incident happened on Jan. 14, when Boutain allegedly attacked another inmate in a telephone kiosk with a shank constructed from sharpened nail clippers. The victim suffered multiple lacerations to his head and back in the attack.