SALT LAKE CITY, Utah, Jan. 28, 2023 (Gephardt Daily) — AC/DC may not have played Salt Lake City since April 2001, but this weekend Utahns can enjoy a performance by Hell's Belles, a tribute band that was formed in 2000 in Seattle.
Lead guitarist of the iconic rock act Angus Young has told music magazine Blender: "The best AC/DC band I've ever heard? There was an all-girl band in America, Hell's Belles."
Gephardt Daily spoke with Adrian Conner, who is the lead guitarist in the group and a solo artist in her own right. She is also in the San Antonio Latina Punk band Fea, which is on Joan Jett's Blackheart Record label.
She has co-written with Kathy Valentine of The Go-Go's, which won Conner a Best of Austin Music Award in 2011 under the "Adrian & the Sickness" moniker.
Since 2016, Conner has produced 12 of her own music videos for her various musical projects.
Listen to the interview here:
DAISY: Good morning. This is Daisy from Gephardt Daily and I am honored to be talking to Adrian Conner, who is the lead guitarist for Hells Belle's. Do we call it a tribute band to AC/DC Adrian?
ADRIAN: Yes.
DAISY: OK. And also a prominent artist in your own right. And we should say that you guys are coming to the Commonwealth Room in Salt Lake City on January 28. We can't wait to see you. I just wanted to ask you first Adrian, do you do you remember either the band or the song that made you want to be a musician?
ADRIAN: Well, I started so young. So it was ABBA. And my mom would play ABBA in the big Buick station wagon, and I would go all the way to the back and put my ear to the speaker and listen to the music and sing along and I thought I wanted to be a singer but then when I grew up I realized I needed to be a good singer, to be a serious singer, you know what I mean? [laughs]
DAISY: So that took you to a love of guitar.
ADRIAN: Yes, it did yeah.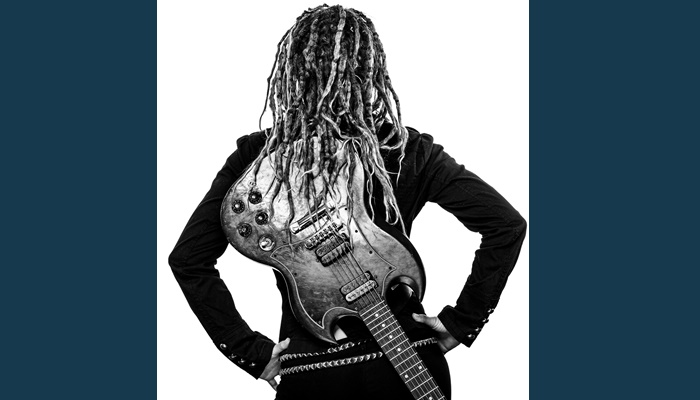 DAISY: And I was wondering because I was reading that I, correct me if I'm wrong, but you grew up in Seattle. Then you went to Austin. Then you went to San Antonio and I was just wondering about how you found the music scene in each of those places.
ADRIAN: Seattle, it had a music scene. I haven't lived there for since 2001. So um, you know we go back and we work there. I mean, a lot of the girls live there. And we go and work there. But we play a totally different part of the music community than like a music scene. You know, we're like; original music is fostered and taken care of, and people are interested in it. We don't really see that because we're the tribute band. So you know, I don't really know what's going on in Seattle anymore. I just knew I was working there with Hell's Belles and I was trying to do my original music in 2001 and I knew that there was no future for me there with my original music.
And I think part of longevity of Hell's Belles has been that I've always done my original music no matter what, like alongside Hell's Belles. I think that's really brought the longevity of Hell's Belles, because I book tours and I go out and I play, and I'm out and about and I see a lot of bands and see a lot of people, and that's really important for when you're, have been a band for so long like you're working with five other women, you know, people. It's been 22 years now this band and it's not the same members. You know, I mean, things change. The road is really hard, traveling is hard. So being able to stay in contact and get plugged in to kind of like people performing and writing music, that's really important to do. So doing original music has kept me plugged into that.
DAISY: So the fact that you're doing both your original music and Hell's Belles is kind of fulfilling to you.
ADRIAN: Yeah, I would be… I would feel like an imposter, just me personally if I was doing just a tribute band thing. I don't think I could play as well. You know, I don't think I would play you know, kind of be a little more rusty. Because if I'm doing my original music, I'm always fighting.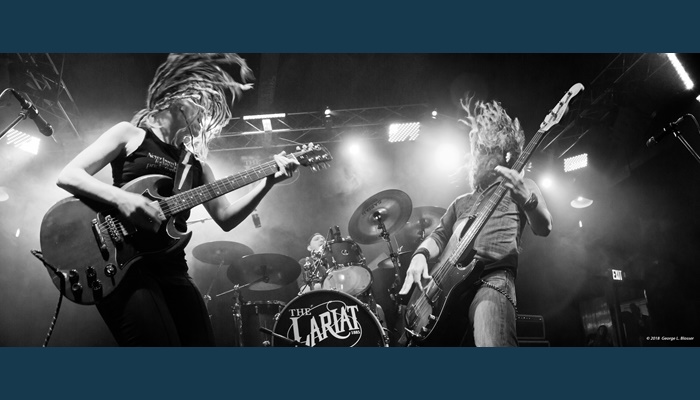 DAISY: How's the music scene in San Antonio?
ADRIAN: It's okay. I mean, it's nothing like Austin; still has the best music scene that I've seen anywhere in the United States and as big as that city's getting, it's not translating to the music community that I can tell, which is really disappointing because I moved there in 2002 and I was surprised like how many people would just go out and they watch bands, and they want to, there's this culture of of wanting to be out and meeting people and talking to people? Where I didn't get that in Seattle; in Seattle, everybody was kind of hung up. And this was back in '01, so this is dated information, but it just seemed like it was all about you know, I'm going to be the next star or whatever.
And then it was just kind of hard to get people interested that weren't already playing music to come out and watch the music. In Austin, it's a little bit better. I do wish that the folks that are moving there that are in that you know, moving into all the big condos and stuff. I wish they were getting more invested in the artists that that play there. But I mean, if you hustle, you gotta have really hustle and you play, you're willing to play different styles of music as a musician, you can probably get by making living there as a musician, but you got to hustle. And you kind of have to be willing to play different genres and all that kind of stuff. I'm in a band called Fea and that is a really cool band. Chicana punk, some of its in English; they let me in the band.
DAISY: You said Chicana punk? I love it.
ADRIAN: Yeah, they're on John Jett's label, Blackheart Records. Yeah, and so their name is Fea, which is Spanish for ugly girl. They're one of the more active bands out here. Probably the most active band that I know as a newcomer to San Antonio is [punk rock band] Piñata Protest. But it's it's not, I haven't seen it, like it's just not like Austin. Yeah, it's not as, I just don't get the sense that, I just haven't seen it. Yet. But I'm gone on a lot so I don't know. It's definitely not as vibrant as Austin.
DAISY: I read a quote that you said about Hell's Belles. I think about the current lineup that you said: "Everybody in the band shows up, and it's like a unit, like a machine." And I wondered was that a synergy that happened immediately with the current lineup or did that take a while to kind of kick into gear?
ADRIAN: It's kind of speaking to what AC/DC does, like they are a machine. The rhythm section is so tight. The vocals they're… the timing is very specific. It's very close; I mean a lot of those songs are almost rapping, so like your rhythm has to be; and people know when it's wrong, you know, because they're popular songs. It was more speaking to AC/DC so if we're replicating what AC/DC is doing, which is our goal in terms of sonically and presenting as a show, so we kind of we want to kind of pretend to be them. Then we should be working as a machine, as a unit.
DAISY: Which must be very satisfying, I would imagine.
ADRIAN: Well, it's really fun.
DAISY: I think I also read somewhere that you said that as well as you know, functioning as a machine that you also try and kind of change each show up a little bit. The footage I've seen seems very spontaneous particularly with what you do.
ADRIAN: I hope so.
DAISY: Because you; I've seen stuff where you're getting on the bar and where you handed your guitar to someone to play.
ADRIAN: Oh yeah, I just find a little things to do to try and make it more fun. For me and everybody else. I don't want to repeat the same thing every time. It's not that fun. I might be going a little bit beyond the script with getting on the bar.
DAISY: Has that ever gone wrong? Have you ever like tripped, or?
ADRIAN: Probably; I only started doing that probably 10 years in. It's been like 21 years of doing this now. So that's kind beyond script but yeah, I just want to make it spontaneous and I don't want to think too much about whatever I do or anything.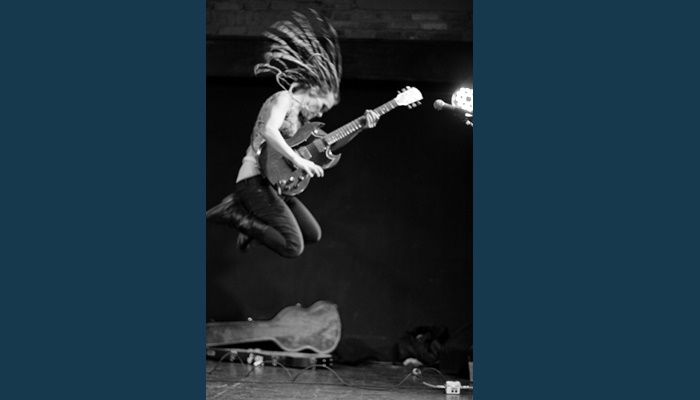 DAISY: I also wondered, so you've been with the band for 20 years, right? Have you found that people's attitude towards AC/DC… like have they got more popular in those 20 years? Have you have you found like there's more interest in you guys as time goes on?
ADRIAN: I don't think so. I mean, I think it's it's more of a solid, I guess… well, I guess it depends on what city you're in. Generally, like little kids really like it and then 35 and up like it and at this moment in time, not too much in between there. When we first started in '01 it was like, because the tribute band thing was new, or a new idea. It was like everybody, it was mostly 20-somethings, but this was 2001 so the same amount of people are now you know in their 40s and they're still hanging and chillin' and then we've always got the little kids.
At the Mangy Moose [in Wyoming], which we're doing that weekend too, there is like a lot of crazy 20-somethings and early 30s at that, in that city and they're like aaaaghhhhhhh; they really go crazy. So it just depends; the music stands the test of time and goes over generations. You know, I mean like everybody loves it. The strength of that music and how universal it is, is a big testament or reason why we've been had so much longevity and also being kind of like starting at that time. That early time and then having building for so long, I guess. Yeah, it stays strong.
DAISY: And do you a proudest onstage moment that stands out either from your solo career, or Hells Belle's, or the punk band that you play in?
ADRIAN: Wow, well Fea, that's a new thing I started in February. This year we opened for [all-female rock band] L7, which was like my favorite, one of my favorite bands when I first started playing guitar; kind of them and Nirvana. That whole power chord way of approaching the guitar was how I started on guitar and was like wow, I was like oh, I can do this. You know, you know, power chords. So getting to open for L7 was huge. And for Hell's Belles when we, it's like like when we get to open for bands that I loved when I was a kid. That's it's those kinds of those things are what make it like cool.
DAISY: Do you have those pinch me moments where you're like, oh my gosh, this is what I do for for a living?
ADRIAN: I'll do that at home, just be like, I'm so lucky… yeah, I mean that's almost every day.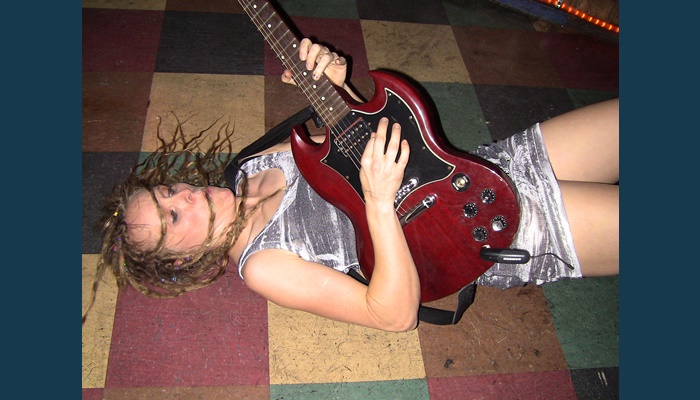 DAISY: And do you have a philosophy kind of by which you live generally?
ADRIAN: I don't believe that I should live, or I don't believe that I meant to live, afraid or in fear. It doesn't mean that I can't experience it. But I don't, I believe that I'm protected. And that I'm always, it's that I'm you know, always gonna be okay. No matter what. It's okay if I get scared and it's normal. But that's my main belief.
DAISY: And then just find that you can just say yes or no to this, but I understand that you even have an AC/DC tattoo. Is that right?
ADRIAN: No…
DAISY: You don't. That's so funny because I was like I read that you had the tattoo and I was dying to know whether that was real. So just to circle back, you guys are coming to the Commonwealth Room, which is a great venue. I don't know whether you've been there before, but it's it's a really… you have. Yeah, January 28. And then for people that want tickets, it's thestateroompresents.com. And I will be there, I can't wait. Yeah, me and my sister are really big fans. So, so we will be will be there. And I really appreciate your time. Adrian.