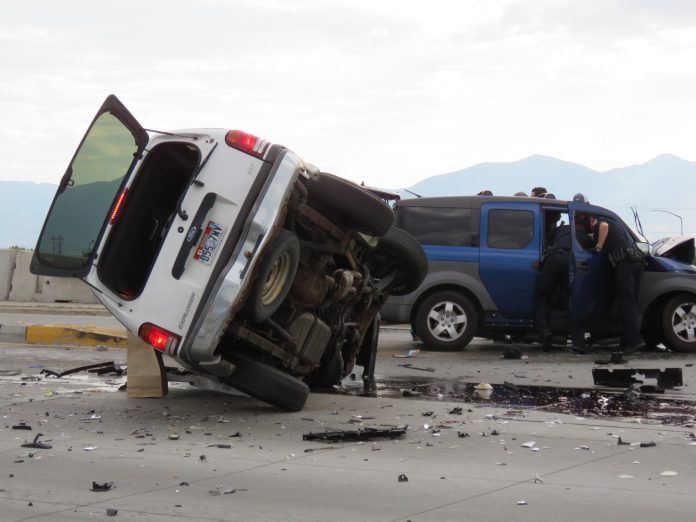 SOUTH SALT LAKE CITY, Utah, Aug. 5, 2016 (Gephardt Daily) — A woman motorist has been hospitalized in critical condition after being hit head-on by a bank robbery suspect driving the wrong way on Redwood Road while attempting to flee police.
Officer Mitch Howard, assistant PIO for South Salt Lake Police Department, told Gephardt Daily the collision happened while the suspect was being chased shortly after robbing the US Bank at 2700 South and 300 West. 
"A single gunman entered a bank, presented a firearm and then took an undisclosed amount of money," Howard said. "(He) left pretty quickly. He then went outside to a waiting vehicle where there was another driver. 
"Officers were able to identify that vehicle soon after, and a pursuit ensued. Shortly after, the suspects were able to elude officers for a moment. They then ditched that vehicle."
One of the suspects, identified by police to Gephardt Daily as Christopher Glines, 37, was taken into custody not far from where the car was ditched, while a second suspect, identified as Alexander Millar, 33, was seen speeding from the area in a second vehicle. 
Police initiated a second chase, which stretched from South Salt Lake all the way to Magna and then back to Redwood Road, where the head-on crash occurred near the intersection with Interstate 80.
"There was a female occupant and the only other occupant of the vehicle who was injured," Officer Howard said. "She was taken to an area hospital … with some significant injuries, not believed to be life threatening."
"We had positively identified the fact that this individual came in, displayed a firearm with the intent to possibly use that firearm," he said. "So, at that point, there was an aggravated circumstance. There's a high risk to the public with an individual that's willing to go into a place filled with people from the public, as well as people who work at the bank, and display that firearm to do a robbery … They were willing to do anything and everything to escape."
Millar, the suspect believed to have pulled the weapon during the actual bank robbery, suffered lacerations and a dislocated shoulder in the wrong-way crash.
Police say they recovered a handgun and cash taken from the bank inside the vehicle.
Both suspects have been booked into the Salt Lake County jail where they will be held on upcoming charges of first-degree aggravated robbery and fleeing police.
"It could have been worse," Officer Howard said. "You hate to see anyone get injured, but the suspect was going the wrong direction in oncoming traffic, and we hope for a fast recovery of the person involved."