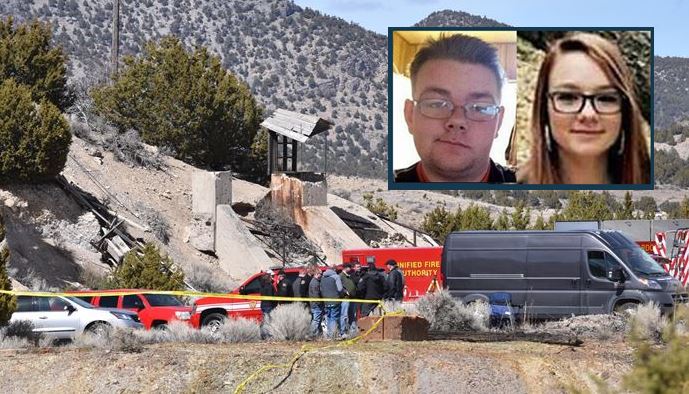 An arrest has been made. For an updated story, click here.
EUREKA, Juab County, Utah, March 28, 2018 (Gephardt Daily) — Authorities said Wednesday they have found two bodies in an abandoned mine near Eureka, and believe they be the remains of missing teens Riley Powell and Brelynne "Breezy" Otteson, who went missing in that area late last year.
Utah County Sheriff's Office Under Sheriff Darin Durfey said in a news conference Unified Fire Authority officials have brought up one body from the Tintic Standard Mine and are in the process of bringing up the other one. He said the two bodies were found on a ledge about 100 feet down the abandoned mine shaft.
Durfey said preliminary findings show the bodies are those of Powell and Otteson, but emphasized the bodies will be transported to the Utah Office of the Medical Examiner for positive identification.
Amanda Hunt, the aunt of Otteson, told Gephardt Daily Wednesday evening the family is grieving, but thankful for closure. She said the family "feels confident" it is their bodies that have been found, and if that is the case, "It's gone from the search for Breezy and Riley to justice for Breezy and Riley."
Durfey said that foul play is "likely" in the death of the teens; but it is too early to say how they died. Durfey added no arrests have been made at this time.
Powell, 18, and Otteson, 17, were last known to be driving their blue Jeep from Eureka, in Juab County, with a plan to head to Lofgreen, Tooele County, for New Year's Eve, where Powell's mother and grandmother live with their boyfriends. The pair were last seen Dec. 30 and officially reported missing Jan. 2.
The Jeep was found on Jan. 11 near Cherry Creek Reservoir, in Juab County, more than a week after Powell and Otteson were reported missing.
It had been hidden in a stand of trees, and had two tires flattened at that location, investigators said. It also had a short length of camouflage strapping attached at the point often used for towing.
Information released by the Tooele 1st District Court last month revealed information from a Jan. 16 search warrant. The targeted location was at and near the Lofgreen residence shared by:
Mistie Carlson, Powell's mother
Lee Shepherd, the boyfriend of Carlson and the owner of a blue Chevrolet pickup truck
Linda Powell, Carlson's mother and Riley Powell's grandmother, and
William Larson, Linda Powell's boyfriend
Information made public included the facts that camouflage tie-down strapping found on Shepherd's truck matched the design of a strap found on the missing couple's Jeep.
The affidavit also revealed that a witness had reported seeing a truck that looked similar to Shepherd's, including a distinctive decal, as it towed a blue Jeep.
Also found was a receipt dated Dec. 28 of last year from a store in Eureka, suggesting that someone had completed a trip from Eureka to Lofgreen.
The affidavit also stated that witnesses gave different accounts of where the residents had been on the final days of the year, and stated that Shepherd had been the only one of the four to decline law enforcement's request for an interview.
Information released also shared more about the cadaver dogs' findings:
"We had the Rocky Mountain Rescue cadaver dogs help search the residence. According to their report, the dogs showed a lot of interest in Lee's truck that was seen towing Riley's Jeep, but were unable to pinpoint where the odor was coming from. We then impounded Lee's Blue Chevy as evidence."
Gephardt Daily will have more on this developing story as information becomes available.