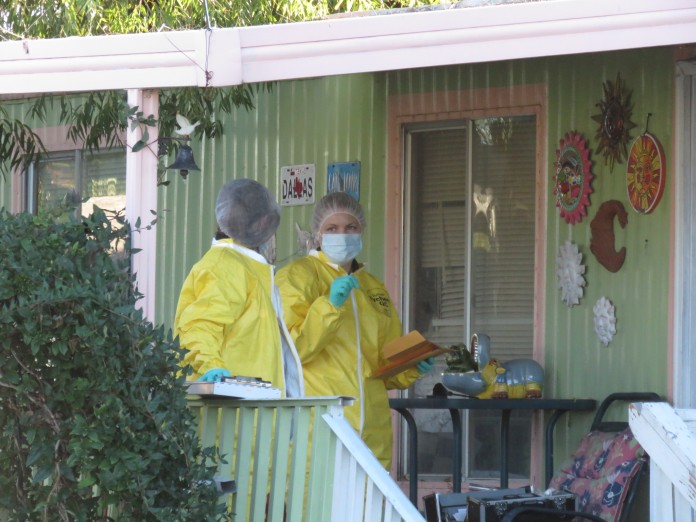 WEST VALLEY CITY, UTAH – October 21, 2015 (Gephardt Daily) — Police in West Valley City have determined the second person found dead inside a mobile home died from asphyxiation by hanging.
According to West Valley Police Department spokesperson, Roxeanne Vainuku, Manuel Roque Garcia, 58, AKA, "Miguel" Garcia's death has officially been ruled a suicide. Police are still uncertain the actual cause of death Noelia Popoca, whose body was also discovered inside the home.
Vainuku stated that detectives didn't find any obvious signs of trauma to her body, such as a gunshot or stab wound.
Officers had originally responded to a 911 call made by a family member of Noelia Popoca after discovering Popoca in full arrest on October 11, 2015 at 8:10 a.m. WVCPD officers arrived at Mountain View Mobile Home Park, located at 2649 West 2680 South and discovered Popoca, 39, a Salt Lake City resident, deceased.
In the same room, officers also found the body of Garcia, who lived in the trailer home where the bodies were discovered.
The preliminary investigation indicated that the deaths of the two parties may have been a murder-suicide, however, Vainuku said they are having to rely on the medical examiner's report to determine what really happened.  "If someone had a bullet wound or stab wound, those things are obvious, but there are a multitude of other ways to die," said Vainuku. "What maybe a visible sign one hour after a person died, may not be a visible sign one day after a person died."
Police investigation indicates that Garcia and Popoca had a sporadic romantic relationship, however, a motive for the deaths of the two individuals is not clear at this time.
Anyone who has information about this case is asked to contact the West Valley City Police Department at 801.840.4000.