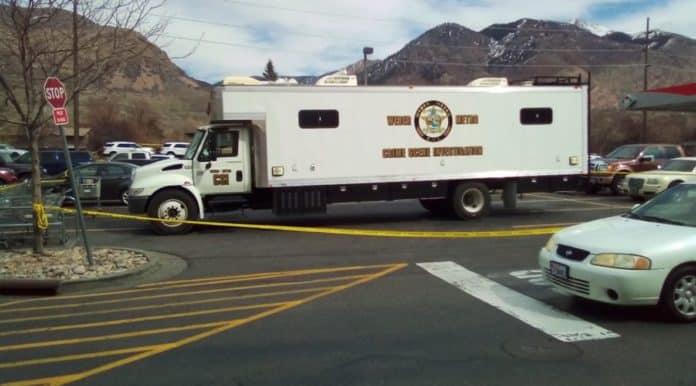 OGDEN, Utah, April 3, 2021 (Gephardt Daily) — Ogden Police officials have responded to the scene of a fatal shooting at a Smith's grocery store on Harrison Boulevard.
The scene is at the Smiths at 1485 Harrison, which is near the mouth of Ogden Canyon. It appears the shooting happened in the parking lot.
An official with the Ogden Police Department confirmed the location and the fact the shooting was fatal to Gephardt Daily at 3:25 p.m., but said he could not give more information at this time because investigators were "neck deep in it."
He said more information would be provided as circumstances allow.
Witnesses on the scene told Gephardt Daily a woman was shot multiple times by a man, who then fled the scene. Police have not yet confirmed the facts.
Shortly afterward, Ogden police responded to a second scene, where they began negotiations with a man standing on a lawn, holding a gun, at times pointed at himself.
Police have not confirmed whether the two scenes were related. As of 6 p.m., police were still at the second scene, on Maple Street in Ogden. At 5:07 p.m., the OPD posted the following:
"Police are on the scene of an ongoing incident. A suspect is armed and currently in contact with police negotiators in the 900 block of Maple Street. The suspect is contained, and the incident is ongoing. The public is asked to stay away from this area. We will provide updates as information becomes available."
Gephardt Daily will have more information as details can be confirmed.