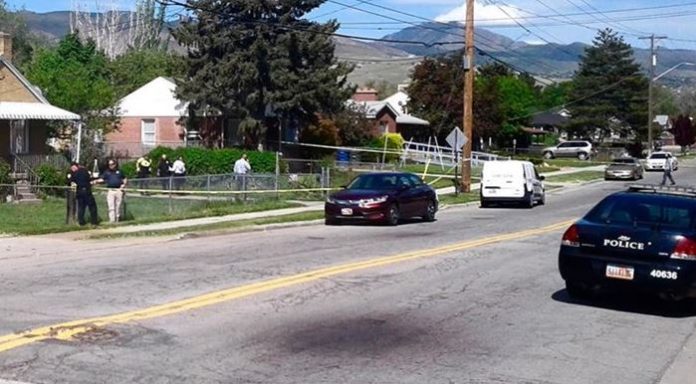 To read an updated story, click here.
SALT LAKE CITY, Utah, May 7, 2018 (Gephardt Daily) — Salt Lake City police conducting a welfare check on Monday discovered what they believe was a fresh homicide scene inside a small, single-family home near a bend in the Jordan River.
"Officers responded," said Sgt. Brandon Shearer, SLCPD. "They located a female, deceased, inside the home."
The residence is at 1628 W. 500 North. Police on the scene said inside the house, they encountered an "obvious homicide."
"We're trying to verify that female's identification, as well as follow up on any leads we've obtained since we've been here," Shearer told Gephardt Daily, which was first on the scene. "We believe it happened this afternoon."
Police were combing the area, and told Gephardt Daily that a blood trail led to a nearby park. A mobile crime lab was brought to the scene to process evidence and document what was found.
"Hopefully, we will develop leads," Shearer said.
Many neighbors who stood on sidewalks, watching police, had a look of shock on their faces. Shearer said the victim appeared to be the resident, so she was probably well known to people living nearby.
Gephardt Daily will provide more information on this breaking story as it becomes available.