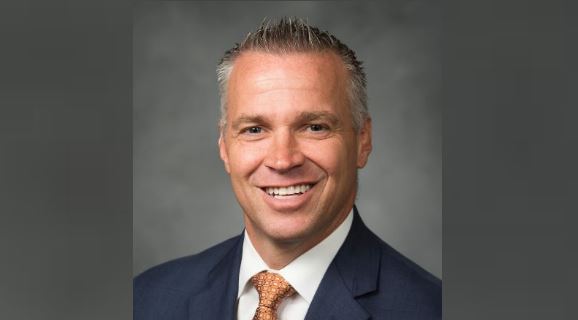 PROVO, Utah, March 21, 2023 (Gephardt Daily) — Brigham Young University's Board of Trustees has appointed C. Shane Reese as the university's 14th president.
Reese will succeed Kevin J. Worthen, who has served as president since 2014.
Elder Jeffrey R. Holland of the Quorum of the Twelve Apostles of The Church of Jesus Christ of Latter-day Saints made the announcement during a BYU devotional in Provo.
"BYU is a light to the world and the flagship of our Church Educational System," Holland said. "We are so grateful for President Worthen's nine years of dedicated leadership. He has shown an unwavering commitment to the university's mission. His Inspiring Learning Initiative has elevated undergraduate mentoring in ways that will forever bless a generation of student scholars."
Reese has served as the academic vice president at BYU since 2019. He previously served as dean of the College of Physical and Mathematical Sciences from 2017-2019 and joined the BYU statistics faculty in 2001.
"I'm honored and humbled by the opportunity to serve as the president of Brigham Young University," Reese said. "Wendy and I express our deep gratitude for the exemplary service of Kevin and Peggy Worthen. We love the mission of BYU and look forward to passionately pursuing that mission with our students, faculty and staff."
During Worthen's tenure, he established the Inspiring Learning Initiative, which has provided mentored research experiences, expanded internships, study abroad opportunities and other experiential learning occasions for thousands of students. He also "helped navigate a period of independence for BYU's football team and membership in the West Coast Conference (WCC) for other athletic programs before ultimately earning admission into the Big 12 Conference.
"He also significantly expanded the infrastructure of the university, including the Westview Building, Music Building, Basketball Annex, Life Sciences Building and Engineering Building," the BYU statement says.
"Serving as the president of BYU has been a wonderful experience," Worthen said in the released statement. "I'm grateful for the opportunity I have had to work with such remarkable faculty, staff and students, and I look forward to the accelerated progress that will occur under President Reese's leadership."
Reese will assume his new role on May 1 of this year, with his inauguration to be announced at a future date.
Reese has used his work in solving problems in professional sports franchises, national security and business. At BYU, he received the BYU Young Scholar Award and the BYU Karl G. Maeser Excellence in Teaching Award. He was also the Melvin W. Carter Professor of Statistics. Prior to BYU, he worked at the Los Alamos National Laboratory as a technical staff member.