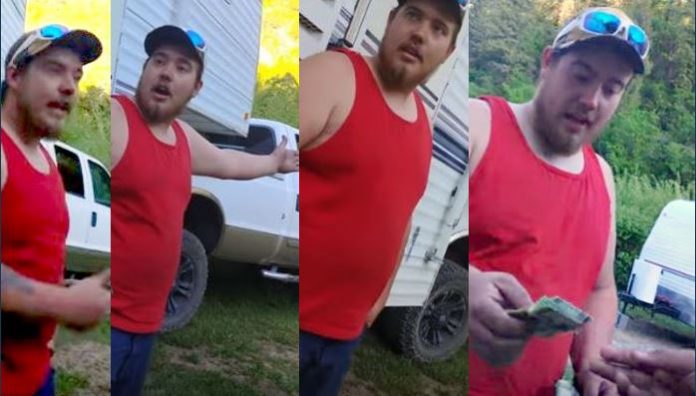 CACHE COUNTY, Utah, July 18, 2018 (Gephardt Daily) — Nearly two months after the combative campsite video went viral, five people are facing charges related to threats made against a Tremonton family unable to move its truck and camper from a spot another group wanted to use.
Wyatt Pack — who is seen most prominently on the May 25 video shot at Blacksmith Fork Canyon — has been charged with:
Threat/use of a dangerous weapon in a fight, a class A misdemeanor
Riot, a third-degree felony
Two counts of assault, one a class A misdemeanor and one a class B
Theft by extortion, a class A misdemeanor
Threat of violence, a class B misdemeanor
The probable cause statement lists as Pack's co-defendants Samara Lee Nielsen, Braxton Jade Haderlie, Rikki Jane Durney, Cory Brian Durney and a 17-year-old girl whose name has not been released due to her age.
Pack, who boasted on the video that he was an employee of Weber County, subsequently was fired from that job. To see the video, click here.
Detective Brian Groves, Cache County Sheriff's Office, was asked to investigate, and reviewed the video, posted on YouTube.
"(I) observed a group of six people who appeared to be having a verbal and physical
dispute with a Hispanic family about a camping area," Groves says in the probable cause statement. "That family was identified as Jose Caballero, his wife Maria Caballero and their two minor children, ages 15 and 8."
Groves also named the suspects, "who appeared to be the aggressors," he said in his statement.
"I talked with the Caballero family and learned that they had driven up Left Hand Fork Canyon from Blacksmith Fork Canyon looking to camp with their trailer on the morning of May 25, 2018. Jose attempted to turn around in a pullout/camping area, and his power steering broke on his truck, leaving him stranded there at about 1100 (11 a.m.) hours.
"Jose noticed that there was another trailer parked in the camping area, so he and his oldest son worked all day using a come-a-long, and moved the truck and trailer out of the way of the entrance. He also explained that a passerby who was headed down canyon to Hyrum had agreed to send a text message to Jose's friend asking for assistance in getting his truck and trailer out of the canyon."
Awaiting help, Caballero continued working on his truck, he told the detective. It was about 5 p.m. " … when a large white truck pulling a flatbed entered the pullout and accelerated towards him," the probable cause statement says. "He moved from the front of his truck and this truck struck the front end of his where he had been standing. Jose felt that if he had not moved, the driver would have struck him with his truck.
"The driver, identified as Cory Durney, his passenger, Rikki Durney and a 17-year-old female then started yelling at him and using profanity, telling him to get his trailer and truck out of the camp area. Jose indicated that he tried to explain that his truck was broken, but they would not listen and continued to swear at him and threaten him, saying that the people coming next were worse than they were."
Fifteen to 20 minutes later, a second truck arrived pulling a large fifth-wheel camp trailer, Caballero told the detective. That truck was driven by Wyatt Pack, with Samara Nielsen and Braxton Haderlie as passengers, the statement says.
"Wyatt immediately walked over to Jose and was yelling and swearing at him to move his truck and trailer, and told him that if he did not then he would burn them both to the ground," the probable cause statement says.
"Jose described seeing a handgun on Wyatt's hip while he was yelling at him, and that Wyatt's hand was resting on the gun. He also described that one of the women with Cory Durney lifted her shirt and showed him that she also had a handgun. Jose explained that he tried telling Wyatt that his truck was broken, but Wyatt, like Cory, would not listen to him. Jose said that he was very scared for his family, and noticed that both Samara Nielsen and Braxton Haderlie were also wearing handguns in plain view."
The statement says Pack continued to use vulgar words, and told Caballero he would move the property for $200.
"Jose said that he did not have any money, and explained that they had friends coming to help them," the probable cause statement says. "Eventually, Jose felt so threatened by Wyatt and his group that he told his wife in Spanish to gather backpacks, jackets and some food and they were going to leave the camp area and walk down the road towards Blacksmith Fork Canyon.
"He asked his wife to take a photograph of the license plate to Wyatt and Cory's trucks, but did not realize that she started recording the confrontation at that time with her phone. As they left the camp, Wyatt came at them screaming and asking if Jose was deaf. He then walked up to Jose and grabbed him by his left ear and tried to hit him, but Jose ducked down. During this part of the confrontation, Wyatt told Jose that he was going to move his truck and trailer but that Jose was going to pay him, and then Wyatt demanded whatever money Jose had."
Caballero said he and his wife produced $45 in cash and gave it to Pack, then Pack and Cory Durney loaded the broken truck onto the flatbed, and drove it to the ranger's station.
"I asked Jose how long the confrontation had continued with this group, and he told me from the time that Cory Durney arrived and struck his truck, to the time that the video was recorded by his wife, Maria, was several hours, and he was very scared for his family the entire time."
Maria Caballero told the detective that when Pack was pulling her husband's ear, both Samara Nielsen and Braxton Jade Haderlie had their hands on their guns.
"She was convinced that Wyatt's group was going to shoot and kill her husband and oldest son, and she talked about not feeling free to leave because Wyatt's group had blocked them in," the probable cause statement says.
"Both Maria and Jose said that they did not feel free to tell Wyatt that they would not give him money, because of how threatening he and his group had been. They both also described that during the several hours long encounter, the members of Wyatt's group yelled at them using Spanish words such as 'Vaminos' and 'Andale' when telling them to get their truck and trailer out of the camping area."
Groves said that during his investigation, he also learned that a couple, identified as Adam Nelson and Tracy Welchmen, had stopped after seeing Maria Caballero and her youngest son standing in the road, crying.
"Adam then walked over to talk to Wyatt Pack's group and tell them that they had no right to make the Caballero's leave," the statement says.
"Adam told me that Wyatt's group also yelled and swore at him and Tracy, and Wyatt assaulted Adam by shoving him. Wyatt's group also yelled at Adam, using Spanish words such as 'Vaminos' and 'Andale.' Eventually, Jose's help arrived and they were able to remove his trailer from the camping area and the confrontation ceased."
Cory  Durney, 41, is charged with:
Aggravated assault, a third-degree felony
Riot, a third-degree felony
Criminal mischief, damage of property with intent to defraud, a class A misdemeanor
Rikki Durney, 39, is charged with:
Riot, a third-degree felony
Braxton Haderlie, 22, and Nielsen, 20 (who is identified in court paper's as Pack's girlfriend) each have been charged with:
Riot, a third-degree felony
Threat/use of a dangerous weapon in a fight, a class A misdemeanor