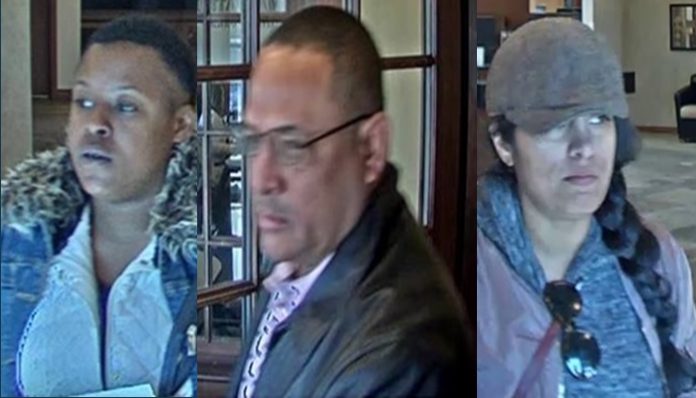 SARATOGA SPRINGS, Utah, April 19, 2018 (Gephardt Daily) — Saratoga Springs Police Department is searching for three suspects they say have cashed approximately $300,000 in fraudulent checks.
The three are wanted for fraud cases in Saratoga Springs, Lehi, American Fork and Payson, Saratoga Springs Police said in a news release on Facebook.
In surveillance photos, the male suspect is wearing glasses and a black leather jacket; in another image he is wearing a black-and-white striped golf shirt. One of the female suspects is Caucasian, and has brunette hair in a braid and a cap. She is wearing a gray hoodie with an embroidered flower, a tan jacket and dark pants, with a cross-body bag. The other female suspect is black, with short hair, wearing a denim jacket with a fur collar, with a white vest underneath.
If you have seen these suspects or have information related to these cases, please contact the Saratoga Springs Police Department at 801-766-6503.