SALT LAKE CITY, Utah, March 15, 2016 (Gephardt Daily) — On another Super Tuesday of voting in the South and Midwest, Chelsea Clinton, daughter of Democratic presidential candidate, Hillary Clinton, made a swing through Utah to stump for her mother in advance of next week's state caucuses.
Chelsea Clinton told a crowd of several hundred at Hillary Clinton's Utah Campaign Headquarters that her mother is "the most well qualified and well prepared person we've ever had run for president."
The former first daughter is expecting her second child and said, "becoming a mother has made her more passionate and concerned about politics," than when her mother first ran for president back in 2008.
Clinton pointed to the contentious rhetoric on the campaign trail suggesting that Republican candidate Donald Trump has "exposed a darkness in our country that I know many of us had hoped we'd moved beyond." She urged Democrats to get to the polls because "we just can't ignore this hate speech and the hateful policies that are flowing from it."
When asked why she would visit and campaign for her mother in a Republican stronghold like Utah, Clinton suggested that the campaign is "going to reach out to voters across the country and that doesn't preclude people who live in Republican states."
In fact, Clinton argued Utah faces a number of challenges her mother hopes to tackle if elected president including raising the minimum wage, universal preschool, universal healthcare, and debt-free college.
"More than 50 percent of the college grads here in Utah have student debt," said Chelsea Clinton. But, she believes Hillary Clinton has a solid plan to help them renegotiate student loans based on the jobs they want and are able to obtain after graduation.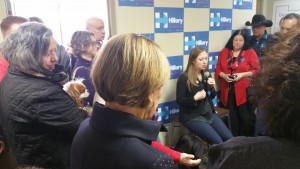 Clinton admitted that her mother's Democratic opponent, Vermont Senator Bernie Sanders' plan to make public colleges and community colleges free, is appealing. However, she said most of the financing for it would need to come from individual states. Clinton suggested, "It's hard to imagine that they (Republican Utah Governor Gary Herbert and the GOP-controlled state legislature) would radically reverse course and not only stop cutting funds but start investing millions of new dollars in public education."
Clinton attended a breakfast with Latino leaders at La Puente restaurant on State Street before the event at Hillary Clinton's Campaign Headquarters. She also planned to attend a "Women for Hillary" event Tuesday afternoon before heading back to New York to spend time with her husband and daughter, Charlotte.
Chelsea Clinton is hoping Democratic caucus-goers in Utah will support her mother when they gather to cast their votes next week. She said, "My mom has stronger plans and a stronger record of being a change maker and I hope that will matter to caucus-goers here in Utah."