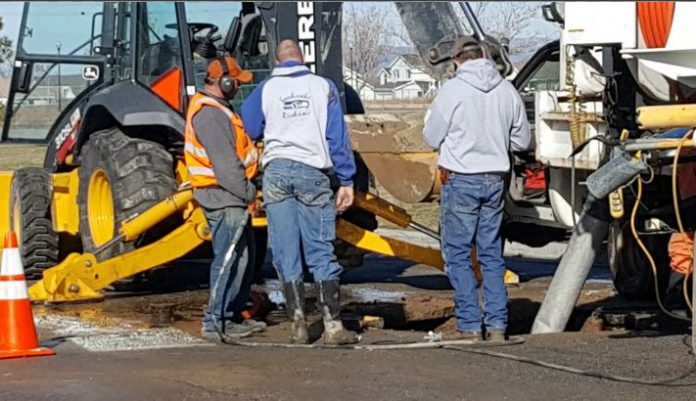 CLINTON, Utah, March 11, 2018 (Gephardt Daily) —  Streets near the Clinton Pond formed shallow rivers Sunday morning after a water main left much of the city dry and awaiting repairs.
"This water main break has been found to be causing problems throughout the entire city," said a Facebook post from the Clinton City Police Department. "The Water Department and Public Works Department are currently working on the issue but the estimated time for repair will be several hours."
The post went up at about 9 a.m., close to the same time as a Twitter request from the Clinton City Fire Department.
"Please do not call the local dispatch to report this issue as it is currently being handled," the CCFD post said. "The dispatch center has received a huge influx of calls this morning about the incident."
Crews at the scene, just south of Clinton Pond, responded with heavy equipment that allowed them to dig out mud and suck out water until they could replace the damaged pipes. Neighbors watched from sidewalks and ducks sunned themselves in the grass.
A new message went up from the Clinton City Police Department at about noon:
"UPDATE!! The water main break has been fixed and water restored to all Clinton residents. Residents may see some residual air working its way out of the system as the lines re-pressurize. The water throughout the city is safe to drink. A big thank you to the Clinton City Water and Public Works Department for a fast and efficient response."