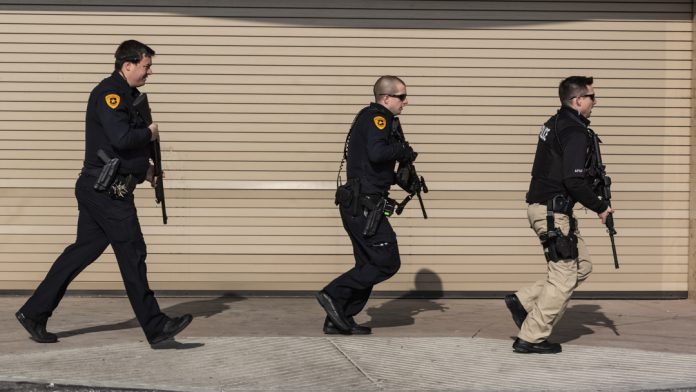 MURRAY, Utah, Jan. 14, 2019 (Gephardt Daily) — "There is no way this is happening again."
Those are the words Al Collins said went through his mind Sunday afternoon after shots rang out just yards from where he and his girlfriend were standing while they shopped at the Fashion Place Mall in Murray.
It was, after all, Collins' second brush with a Utah mall shooting, the first being at Trolley Square in February 2007. This time, however, Collins was not only in the middle of the event, he accidentally captured the moment of the shooting on his cellphone.
"I was outside Trolley Square when that happened 11 years ago," Collins said. "Today, I thought, there's no way this is happening. I never thought I would get anywhere near something like this a second time. It was unbelievable. We couldn't run fast enough."
Collins said he simply wanted to buy a new dress shirt Sunday. That's why he and his girlfriend went to the mall. Little did they know their lazy afternoon outing would end in terror — the couple running for their lives along with dozens of other panic-stricken shoppers.
"People were diving on the floor, behind cabinets and clothing racks, and running toward the outdoors," Collins said.
"We saw daylight and we went for it."
Once outside, Collins and his girlfriend ran through the mall parking lot, where they met a policeman arriving at the scene.
"I was so shaken up I could barely speak," Collins said. "I could barely tell him what was happening."
The video Collins captured on his cellphone begins mere seconds before the gunfire breaks out. Collins said he was recording what he thought was a fire alarm being played over the mall's intercom when the shots rang out about 20 yards and around the corner from where he was standing.
"I was close enough to feel the percussion in my chest," Collins said, "and it was way loud."
Collins said the recording captured at least five gunshots, and that reflections of the gunfire can be seen in the video.
According to Officer Kenny Bass, Murray Police Department, the shooting took place near an entrance on the southeast side of the mall at about 1:42 p.m. and prompted an emergency response from police and fire units across Salt Lake County.
Police established a containment perimeter for several blocks surrounding the mall and began searching for three male suspects believed to be wearing dark pants and hoodies.
Officers went throughout the sprawling complex from room to room, where they sometimes had to convince people in hiding that the coast was clear.
Those found inside the mall were quickly screened to make sure there were no suspects among them. They then streamed from the mall single file with their hands in the air.
A man and woman believed to be in their mid-20s were wounded in the shooting.
The female victim was shot in the leg. She was treated and released from Intermountain Medical Center.
The male victim was shot in the back and legs and was reported in critical condition at IMC.
Police were reviewing mall surveillance videos in hopes of identifying the suspects. They say there's reason to believe the shooting was gang-related.
Anyone with information about the suspects is asked to call the Murray Police Department.
Fashion Place Mall Shooting